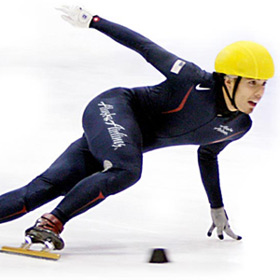 With the Winter Olympics opening tonight in Vancouver, here's a re-introduction to Apolo Ohno, who will be one of a few key American faces during the games. This Olympics will be a sort of homecoming for Ohno, who grew up in nearby Seattle. Apolo has already won five medals in the past two Olympic games. One more medal will tie Bonnie Blair for most accomplished American athlete in Winter Olympics history, and two more will surpass her. His road to breaking Blair's record will be difficult, as several South Korean skaters are ranked higher than he is on some short track speed skating events.
Over the years Ohno's fame has moved a bit beyond even Olympic stardom. He was named one of People's Most Beautiful People in the past, and won the 2007 season of Dancing with the Stars on television. His athletic story reminds me a lot of Andre Agassi, in being extremely talented but rebellious and flamboyant at an early age, and later maturing into focused, wise icons of their respective sports. 
His family story is also interesting, for those who haven't heard it. His father Yuki, a high-fashion hair stylist who raised his son alone as a single parent, has been credited by Apolo for being an anchor for his success. Yuki
still travels with his son and prepares
fruits and vegetables for him (on top of cutting his hair). An older
Sports Illustrated articl
e chronicles how rebellious Apolo was as a teen, how he often fought with his father, hung out with friends who robbed homes and cars, and how Ohno didn't start dedicating himself to his sport until his father put him in a remote beach cabin for eight days, to let him decide for himself what he wanted to do.