Photography by JJ Casas (jjcasas.me)
Were your parents strict with you when you were growing up? It's because they wanted you to be more like David Chiu. (Or his two brothers -- they all went to Harvard.)
Since arriving in San Francisco nearly 15 years ago, the 41-year-old Boston native has certainly exceeded his parents' expectations. In 2008, he made his mark on the city's history when he became the first Chinese American to be elected Supervisor of San Francisco's District 3 -- which includes famous neighborhoods like Chinatown, the Financial District and Fisherman's Wharf.
That victory was followed by a meteoric rise to political prominence that culminated in his election to the Board's presidency -- again, the first Chinese American to do so. Chiu's parents were beaming with pride in the Legislative Chambers that January in 2009 when seven tense rounds of voting finally swung in his favor. And they must have been even more proud when he was reelected this year.
What's surprising is that his parents' stores of pride weren't exhausted long ago.
Chiu's achievements are almost comically impressive. After earning his undergraduate degree at Harvard, he went on to earn a Master's in Public Policy from the Kennedy School, and then a JD from Harvard's Law School.
While most of us spent our twenties waffling about in a haze of identity crises, Chiu spent his as a Democratic super-staffer in Washington, DC, for a number of years, playing key roles on the Senate Judiciary and Budget committees.
West Coast? Best Coast.
In the mid-90s, San Francisco called out to him. "This part of the country is a beacon of diversity and tolerance and innovation," he says. "There were so many exciting things happening in the Bay Area and San Francisco in particular that I decided 15 years ago to move out here."
He hit the ground running. After serving as a criminal prosecutor for the San Francisco District Attorney's Office, and then as an attorney at the Lawyers' Committee for Civil Rights, he founded Grassroots Enterprise, a public affairs technology company.
Meanwhile, he volunteered his time on a number of community organizations, including the politically influential Chinatown Community Development Center, the Asian American Bar Association, and his own neighborhood's improvement association, Lower Polk Neighbors.
And -- full disclosure -- in addition to attending early Hyphen meetings, he later helped to secure space for Hyphen at the offices of Chinese for Affirmative Action. He is not currently involved with Hyphen.
A Historic Election
As the first American-born child of Taiwanese immigrants, Chiu sees in this election special significance. "San Francisco has been a capital for the Asian American community," he says. "With the candidates that we have in this election, it could be a watershed moment for the community." 
At the same time, Chiu admits that it's been a long time coming. "In a city that is one-third Asian, there are many who thought that this moment could have come earlier."
And it's not just the Asian American community that the historical nature of this election benefits. He says, "[This election] will be another indication that San Francisco is a city that will embrace residents and leadership from every community."
On the Issues
While Chiu believes that the issues that affect the Asian American community are the same issues that affect all San Francisco residents -- such as education, transit, jobs, affordable housing and social justice -- he is nonetheless strongly committed to issues that affect it disproportionately, like language access and immigration.
In 2009, Chiu pushed through an ordinance strengthening language access requirements for city departments. But in regard to San Francisco's controversial, 22 year-old sanctuary city policy -- which protects illegal immigrants by prohibiting city employees and police officers from inquiring about immigration status -- he chooses his words carefully.
"I am very supportive of ensuring that immigrant communities have a relationship of trust with law enforcement, which is the underpinning of our sanctuary city policy," he says. "And I would continue to uphold a policy that fosters that trust."
The "Twitter Tax-Break"
Two pressing issues that Chiu is particularly passionate about are job creation and fostering business development. For Chiu, business growth is more than a matter of dollars and cents. It has a direct impact on the demographic makeup of San Francisco. In recent decades, the city has seen a growing economic and racial divide as middle-income families become priced out and move to more affordable areas.
Earlier this year, he championed legislation that creates a payroll tax exemption zone in the economically depressed neighborhoods of the Tenderloin and Central Market.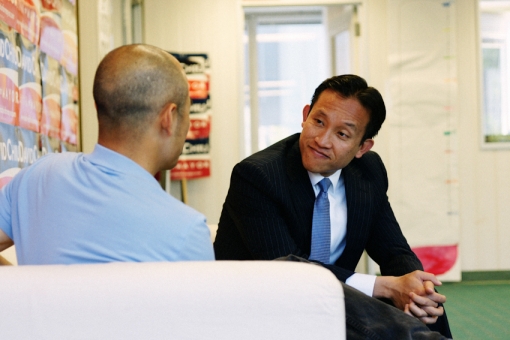 The so-called "Twitter tax-break" came with a guarantee from the eponymous company to keep its headquarters in San Francisco. It also drew the ire of die-hard progressives weary of concessions to corporations. Chiu, however, is unapologetic, and is quick to point out that the legislation doesn't just benefit Twitter.
"We've had too many instances of great ideas for companies that were born here in San Francisco that have traveled down to Silicon Valley. We've lost hundreds of companies in recent years because San Francisco has not figured out how to reconcile our shared progressive values with economic development and policies that nurture these 21st century, innovative economies," he says.
Hot Wheels
To wrap up our interview with Chiu, we turned to a topic that affects San Franciscans more frequently, perhaps, than any other: transit. And then we invited Chiu to put his legs where his mouth is, so to speak.
"We are a city that invented the cable car," he says. "And while we aspire to have a transit-first city, our buses are late 30 percent of the time, it's impossible to catch a cab, and pedestrians and cyclists do not feel safe on the roads."
Chiu doesn't own a car. Since arriving in the city, he's utilized a combination of public transit and his own two leg-pistons on his bike to get him where he needs to go.
As mayor, Chiu would push for improvements to nearly all aspects of transit in the city. For cyclists like himself, he envisions a highway-like system with segregated lanes for bikes; comparable to cities like Amsterdam.
"For me, at the end of the day, biking is healthier, it's good for the environment, it's an incredibly enjoyable way to get around town," he says. "And it gives me a chance to stay ... slightly in shape."
With that he strapped on his helmet, hopped on his bike, and pedaled away to his next event -- and maybe just a bit closer to making history for a third time.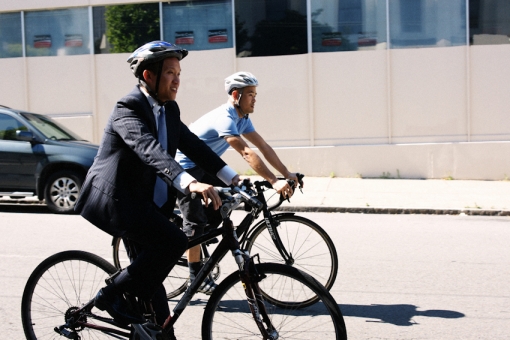 More full disclosure: Hyphen Editor in Chief Harry Mok's wife Ramie Dare is a volunteer for Chiu's campaign.
Find the first post in this series here. Look for the next in 2 weeks: Monday, August 22.