Photography by JJ Casas (jjcasas.me)

San Francisco is a special place. For the past 22 years, Edwin Mah Lee has assiduously served his city by keeping his head down, doing his job and doing it well. Since being appointed interim mayor in January, he's been widely praised for his humility and practicality, and for introducing a new tone of cooperation in the chambers of City Hall.
In any other city, the image of a soft-spoken, middle-aged Chinese American bureaucrat would probably never project itself beyond the plate-glass façade of a nameless office building. But in San Francisco, if recent polls are to be trusted, that image can project you directly into the mayor's office. 
It won't, however, save you from controversy.
When Lee announced his candidacy last month, there was no shortage of real and feigned surprise. Although he secured his appointment by promising a few key Supervisors that he wouldn't run for mayor, for some the writing began appearing on the wall very soon after he took office.
Since the spring, efforts to convince Lee to throw his hat in the race have come from quarters as diverse as Senator Diane Feinstein, former San Francisco mayor Willie Brown, and prominent Chinatown activists Eddy Zheng and Rose Pak. There was even a short-lived campaign called Run Ed Run that engaged in stunts like distributing 20,000 moustaches at a Giants game (a play on Lee's iconic facial hair choice).
When asked why he changed his mind, Lee pointedly responds, "I've been a reluctant mayor to begin with. I'm not a politician." It took a lot of convincing, he says, but he felt that what he was doing as mayor was working. He cites among his accomplishments closing a $380 million budget gap, bringing the America's Cup race to San Francisco, and establishing a tax exemption zone aimed at keeping large companies from leaving the city.

                                     Being civil.
Moreover, the tone of civility that he's often credited for bringing to City Hall has, in his view, encouraged practicality -- something he finds difficult to give up. "This is worth giving up the city administrator's job. This is worth entering the political arena," he says, quickly adding: "As a non-politician."
It's possible that the relationships he's strained by changing his mind may ultimately hinder his ability to maintain the civility of his interim period, but no elected official in the race will want to come off as obstructionist. Moreover, at least one poll shows that voters don't seem to care much whether Lee broke any promises by entering the race and that some even like him more for it.
At any rate, in the weeks since his announcement, other candidates have been trying to transition to higher ground. Phil Ting, whom we profiled just a few weeks ago, notably called for an end to the negativity surrounding Lee's reversal, asking candidates to focus instead on the issues.
In that spirit, we sat down with Lee to talk about his background, and his vision for San Francisco.
Native Son
It wasn't until later in life that Ed Lee confirmed once and for all that he is in fact a Lee. Several years ago, he made a pilgrimage back to his father's home village in China to verify an old story surrounding his father's origins.
In a recent San Francisco Chronicle article, Lee explained that his father, Gok Suey Lee, was born in Guangdong province's Toishan district, but was adopted by a Mah family in a neighboring village to help work the fields. It wasn't until he immigrated to the US in the 1930s that he reverted to his birth-name, Lee.
That would make his son, the mayor, eligible for membership in the Lee Family Association, the largest of San Francisco's many Chinese family associations (kongsi). These associations, common in Chinese diasporic communities around the world, were established to provide social services and land ownership to their members, who were disenfranchised by legislation like the 1882 Chinese Exclusion Act.
Although the mayor's surname has never been the subject of serious dispute, that hasn't stopped the rumor mill from churning. Some (exactly who is unclear) claim that Lee's father was in fact not a Lee, but a "paper son": someone who took advantage of the loss of records in San Francisco's 1906 earthquake to claim American parentage and thus circumvent exclusion.
At stake is, of course, not only a matter of genealogical truth. The Lee clan's San Francisco branch boasts 10,000 members -- that is, potential votes. A significant bloc in a city with just under 500,000 registered voters.
Chinatown Roots
Gossip aside, the story of Lee's family is a familiar one, shared by countless other immigrants from China during the first part of the twentieth century. After arriving in Seattle, Lee's father worked at a local restaurant in the city's Beacon Hill neighborhood, while his mother worked as a waitress and seamstress. Lee was born there in 1952, and his subsequent life and career mirror in many ways the political rise of San Francisco's Asian American community.

               One of Lee's staffers gets something done.
In the '70s and '80s, Lee was deeply involved in community organizing and activism. He spent the '90s and most of the aughts in city government, rising through the ranks. During these decades, elected Asian American city officials were few and far between. It wasn't until the aughts that the community really began to make up for lost time.
Now, Lee is poised to join a wave of Asian American elected city officials -- a wave that's closely identified with Public Defender Jeff Adachi, Assessor-Recorder Phil Ting, Board of Supervisors President David Chiu, Supervisors Carmen Chu, Jane Kim and Eric Mar, as well as former Supervisors Fiona Ma and Leland Yee. It's a sign of the times that four of those officials are currently running for mayor.
After graduating from Bowdoin College in 1974, Lee returned to the West coast to enroll at UC Berkeley's Boalt School of Law. There he joined with student groups to resist -- "physically demonstrate against," in his words -- the law school faculty's proposed repeal of special admissions for Asian American students.
In fact, it was the newly formed Asian Law Caucus (ALC) that approached him to volunteer for the cause -- commencing a relationship that would last nearly 15 years.
"They came to me and said, 'Hey, we need to recruit some Asians because there's a problem at your law school. They want to remove special admissions for Asians because we're too successful.' I went, 'What? Yeah, there are some who are pretty successful because they're rich. But most of the Asians there aren't rich; they're struggling like everyone else.'"
He explains that after graduating from Boalt, "What I really wanted to do was work in Chinatown." He started an internship at the ALC and went to work on housing rights issues and establishing the organization's San Francisco office. They didn't have the resources to hire him at the time so, initially, he worked for free.
During his time at the ALC, he fought alongside Asian, black, Latino and other victimized communities for tenant and civil rights. Among Lee's most memorable campaigns was defending the tenants of the International Hotel in San Francisco's Manilatown -- a cause célèbre for the Asian American community. He also led a highly publicized renters' strike in 1977 for the tenants of the Ping Yuen public housing complex, in response to safety issues raised by the rape and murder of a 17 year-old resident. In the '80s, he fought for justice and awareness of the murder of Vincent Chin in Detroit.
Lee brought his commitment to advocating for basic rights into city government when, in 1989, he was appointed Investigator for San Francisco's Whistle Blower ordinance by then-mayor Art Agnos. Lee's been in city government ever since, heading departments like the Human Rights Commission and Public Works. In 2005, Lee was appointed City Administrator by Gavin Newsom -- a powerful position with wide-ranging responsibilities -- and was reappointed in 2010.
"Mr. Mid-Market"
Lee's campaign headquarters are located in one of the most central, if also one of the seediest, neighborhoods in San Francisco. "This is kind of considered skid row" of the city, he says. "In fact a lot of the residents evicted from the I-Hotel relocated here."
Two doors down is the infamous Crazy Horse strip club. Lee, however, is more likely to direct your attention to nearby restaurants, the theatre district, and the tech businesses he attracted to the mid-Market district through a payroll tax break he championed earlier this year (along with Board President Chiu, whom we profiled in August).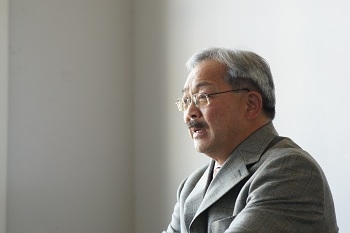 Lee recommends: Show Dogs!
In fact, Lee's mid-Market address signals a number of his campaign's priorities and is the centerpiece of an overall vision for the future of San Francisco. It's a classic urban renewal strategy: attract businesses to one of the city's most economically depressed neighborhoods, and the influx of dollars will solve a range of problems, from renovating decrepit properties to improving public transit, to increasing safety.
Among the companies that have or will be calling mid-Market home are Twitter, Zendesk and Burning Man. A number of housing developments are also slated to begin in the near future. Lee also hopes that the so-called "Twitter" effect on the district will help to invigorate the arts, as businesses and residents become poised to invest millions in beautifying and restoring their properties.
"You're going to see hundreds of employees walking these streets. And they're going to take advantage of Show Dogs, and the new bar Showdown," he says. "We're also invoking a community benefits agreement with businesses to recruit their maintenance and blue-collar work from the local community while they continue to recruit the best engineering talent."
Committed to the Asian American Community
In January, Lee was appointed interim mayor by the city's Board of Supervisors, to complete the term that former mayor Gavin Newsom resigned to become California's Lieutenant Governor. As a result, he became the city's first Asian American mayor. That alone is an historic achievement.
But he wasn't elected by the city's residents. It's a distinction he's keenly aware of, and yet another reason why this year's election is even more freighted with significance.
"I've been appointed, and that's a wonderful thing," says Lee. "But gosh, you've got to see how excited people are ... about an Asian American becoming an elected mayor. Because that confirms, by the vote of the people, that the city wants an Asian American mayor, knowing the history of discrimination in this city."
He stresses his commitment to ensuring that Asian Americans are represented in city government. For him, that entails making sure that "basic agencies have enough resources to welcome new immigrants that come in, or deal with health care for people who can't speak English, or helping them with new jobs. I'm very sensitive to it."
When it comes to issues like San Francisco's long-standing sanctuary city policy, which forbids police and city officials from inquiring about immigration status, his support is unequivocal.
"I'm a very strong supporter of it. Making sure that people aren't punished for just being great citizens and contributing to the tax base," he says. The number one problem sanctuary city helps to resolve, he says, is that "people don't report crime if they figure they're going to be targets for illegal immigration."
Reflecting upon his career, he says, "I'm a mayor that's going to pay attention to the needs of the Asian Americans. From the moment I stepped into law school to protect special admissions, to now."
There's no way Lee, as a young law student, could have guessed that the community he planned to serve for the rest of his life -- one of the city's most vulnerable and politically marginalized -- might one day become his springboard into the city's most powerful elected position.
But perhaps the most satisfying twist to his story is not that his early commitment is now paying off in spades -- but that his success has become indistinguishable from the success of his community.

                           An image, projecting itself.