A scene from Patrick Wang's In The Family
Most first features from directors either try too hard to show off or be overly stylish, or exhibit an uncertain, undeveloped voice that viewers know will eventually grow with time. However, In The Family, the debut of director Patrick Wang, who also wrote, produced and starred in the film, resonates with a patient and assuring maturity, as calming and disarming as the plainclothes Southern lilt of Joey, the film's protagonist and Wang's character.
Wang, a theater actor and director from the Stella Adler Studio and the Neighborhood Playhouse, won the George C. Lin Emerging Filmmaker Award at the 12th annual San Diego Asian American Film Festival where In the Family also garnered the Best Narrative Feature honor.
Filmed mostly in Yonkers, NY but set in Tennessee, the scope of In The Family is ambitious to say the least -- it has a run time of 169 minutes and covers same-sex relationships and marriage, the South, cultural identity and the futility of the legal system. Yet we are never reminded of these "issues" and instead are drawn into a straightforward, heartfelt story about a family. Joey Williams (Patrick Wang) and Cody Hines (Trevor St. John) together raise a 6-year-old son named Chip Hines (Sebastian Brodziak), whose mother died during childbirth. After Cody befalls a tragic accident, Joey becomes Chip's sole legal guardian, but that cherished privilege is then taken away from him by Cody's sister (Kelly McAndrew) in an escalating custody battle that becomes further complicated by a will and a legal issue --Joey's relationship with Cody is not recognized by courts in Tennessee. The 3-word title stems from "in the life", an expression used to represent "belonging" to the gay community, as well as parts of larger phrases such as "keeping it in the family" to connote the complexity of the issues dealt with, but at the same time reminding the audience that these "issues" are peripheral, and the main thing that matters is the family story.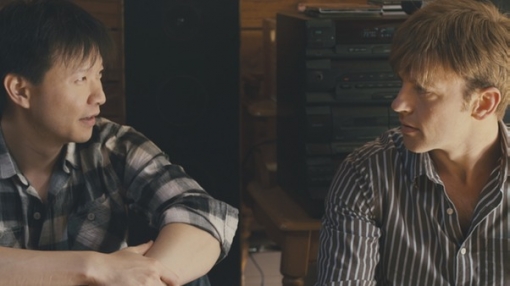 Patrick Wang as Joey and co-star Trevor St. John as Cody Hines
The rest of the film, occasionally interspersed with alternating flashbacks, follows the well-written plot structure of the greatest legal "underdog" stories -- distraught client faced with problem, does legal research on his own but hits a wall, hires legendary lawyer, and finally wins the case in a climactic courtroom scene -- but has an intriguing twist culminating in an intense deposition scene, probably the most reviled of legal proceedings from a civilian point of view.
As a lawyer myself, I certainly appreciated how "the Law" was portrayed in the film -- and Patrick was also certainly satisfied with how it was conveyed as well: one-part concrete wall, one-part Kafka-esque labyrinth, one-part nebulous, vast, open sea of possibility -- summed up best by the advice given by the sagacious Southern lawyer (brilliantly played by South African actor and stage veteran Brian Murray), who suggests there are other ways to get around the law by reaching directly to the people behind the problem.
Wang directs the film using distanced shots, marathon takes, compositions framed by shoulders and doorways and visually unconventional objects -- he appears to be speaking in the cinematic language of Ingmar Bergman, Ozu, Edward Yang and Hou Hsiao Hsien -- but adding his own interpretations and a very American touch (Wang mentioned he was influenced by Cassavetes and Tony Richardson as well). What Wang enjoys about long takes is that "they allowed [him] to observe a continuous evolution of thoughts or behaviors for a character" and there is "a lot of information in the rhythms in which characters think and move, and that information is particularly important in those scenes."
Shot in under 15 days, In The Family is a true tour-de-force, and a testament to the spirit of good, solid independent filmmaking. Yet, it took rejections from over 30 film festivals before it was finally screened at the Hawaii International Film Festival and the San Diego Asian Film Festival. After those festivals "took a chance" with it (a courageousness that Wang is certainly grateful for), it has received rave reviews from the likes of the New York Times, Variety, and the Village Voice. The film recently completed its run at the Quad Cinemas in New York. Once (and if) it comes to your town, I certainly advise you to go see it -- not just because it's an excellent film, but also because it teaches you exactly how an excellent "first film" should be made.