This story originally appeared in the Alhambra Source.

The West San Gabriel Valley may soon be home to the first majority Asian American state or federal electoral district in California. On Monday new Congressional and state district maps were adopted, which are scheduled to go into effect in January. According to the redrawn boundaries, the 49th Assembly District, which includes Alhambra, would be just over half Asian.

The benchmark reflects a growth in Asian American demographics and organized advocacy on behalf of the diverse community. The impact it may have on representation is less clear. "It's certainly historic that we have our first Asian majority district," Douglas Johnson, a fellow with the Rose Institute of State and Local Government at Claremont McKenna College , said. "In 2001 the Asian American community was very clearly divided intentionally to limit its influence, and what we saw this time was a lot of hard work by the Asian American community."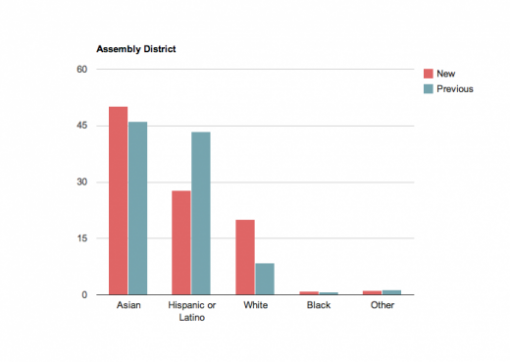 State Assembly District 49 by ethnicity of the citizen voter age population.
Asian Pacific American Legal Center . The organization's voting rights director, Eugene Lee, frames the new boundaries as a civil rights victory.  "The district being drawn this way reflects a recognition by the commission that Asian Americans are entitled to federal voting rights protection," he said. "When people talk about voting rights protection districts they often talk about Latino and African American districts, but not as often about Asian Americans."
One of the key organizers in the effort was the Los Angeles-based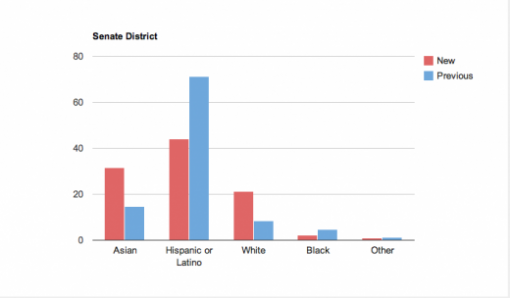 When Commission Member Connie Galambos Malloy announced the new maps, she said that throughout the 10-month process, the commission collected statements from Californian residents to guide itself on the process, and said that it "had operated with "consideration of all language, ethnic, and racial minorities."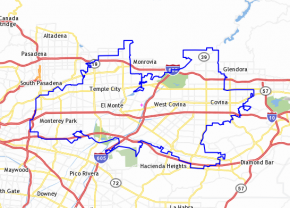 Overall Asian groups are the ethnic group that appears to have made the greatest gains with the new maps, with the West San Gabriel Valley considered a particular success. "From the perspective of Asians, they walked away with a lot of districts that look very good—for example, in the San Gabriel Valley," Common Cause's Executive Director Kathay Feng told New American Media .
Whereas some heavily Asian cities were separated 10 years ago, advocacy groups succeeded in their goals to keep them together this time. In all districts Alhambra is grouped with Rosemead, San Gabriel, Monterey Park, and Arcadia. Temple City, which is currently severed from Alhambra in both State Senate and Congressional districts, is also be grouped with Alhambra in all of the proposed districts. In the 49th Assembly district, which includes Alhambra and most of the West San Gabriel Valley, 50.1% of eligible voters are now Asian Americans. The Senate and Congressional districts that represent Alhambra also saw increases in their Asian populations. In contrast, the Latino population in all three districts fell, most significantly in the Senate which went from 71.1 % Latino to 44.1 %.  Overall, Latinos were less satisfied with the results, with not as big an increase as hoped for in Latino majority districts.
Congressional District 27 by ethnicity of the citizen voter age population.
One expected impact is that Asian residents will be better able to elect representatives of their own ethnicity. In California, "Race still plays a big role in election decisions," Johnson said. At the same time, he notes that Asian Americans have often succeeded in becoming elected when they are not the majority, with a key local example being Congresswoman Judy Chu's success over Gil Cedillo.
Still, while in some areas cross-ethnic voting is increasing, Lee said that APALC had discovered that in the San Gabriel Valley there is "racially polarized voting, where Asian voters tend to vote cohesively and in some cases non-Asian voters tend to vote differently and against the preferences of Asian American voters."
Alhambra's current elected state and national officials appear to reflect that trend. In the three Senate, Assembly and Congressional districts to which Alhambra previously belonged, a different ethnic group held a plurality. In each case, a member of the predominating ethnic group represented the district: Mike Eng was elected to the predominantly Asians district Kevin De Leon to the majority Latino state senate district; and Adam Schiff to the predominantly white congressional district.
Some argue the reason that this is consequential is because residents of common ethnic backgrounds tend to share interests. Lee said that APALC worked with community members and discovered common interests last year such as schools, language access for the large limited English population. They found situations where there are welfare schemes and fraud schemes that target Asian language speakers and needs for medical access. "It's helpful to have a representative who knows about those issues and can find ways in terms of legislation to address them," he said.
The Senate, Assembly and Congressional districts to which Alhambra belongs each has a different ethnic group with a plurality.
Mike Eng has represented the 49th District for the past six years but will not be able to run again due to term limits. In his experience, he said, that while having a common ethnic background can be an advantage connecting to constituents many concerns transcend ethnic boundaries. "Although the percentage of Asian voters will increase, their concerns are very similar to Latinos and Anglos and African Americans," he wrote in an e-mail. "Better economic opportunities for small businesses and workers, improved education for students, highway and mass transit improvements to cut down on traffic and improve air quality, increased water quality; and civil rights by promoting diversity and respect for all ethnic groups; all of these issues must continue to be addressed by candidates no matter what their ethnicity."
The maps will now be sent to the Secretary of State. From August 15 the public will have 40 days to file complaints to the California Supreme Court. The commission expects that the new districts will go into effect in time for the June primaries in 2012.