Aimee
Phan's first novel, The Reeducation of
Cherry Truong opens with the title character searching for her older
brother, Lum, who has been exiled to Vietnam after a gambling debt ended in
violence. While its emphasis on Southeast Asian gangs in America may sound a bit
reminiscent of Clint Eastwood's Gran
Torino, the novel diverges from the by-now common look at conflict between
white and Asian Americans. Phan offers instead
a multi-faceted narrative of the lives of two Vietnamese families, the Truongs
and the Vos, as they piece together their relationships to each other and their
communities in the decades-long aftermath of war.
At
the heart of Phan's saga lies the fall of Saigon in 1975, when the mode of
evacuation for many South Vietnamese depended on a family's wealth and relationships
with the US military. Families who could afford it, like the Truongs, made it
onto refugee boats to UN camps in Malaysia, where they waited for sponsor
papers from America or France. Those left behind -- like members of the Vo
family -- were killed or "reeducated" in communist-run camps.
When
the story begins, Cherry Truong has deferred her medical education for a chance
to convince her brother, Lum, to come home. Rather than finding him anxious to
resume his life in America, Cherry discovers that he has spent the past five
years becoming a successful businessman, and now lives happily with the branch
of the family who had decided not to
leave Vietnam after the war. His reluctance surprises her: "'But it's not
home,' Cherry says, struggling to control her impatience. 'It's not
America.'" Her grandaunt takes in her comment and draws a
cross-generational parallel: "You know who you sound like? ... Your grandfather,
when he tried to convince Bac Tran and me to leave Vietnam... Not everyone was
fated to leave."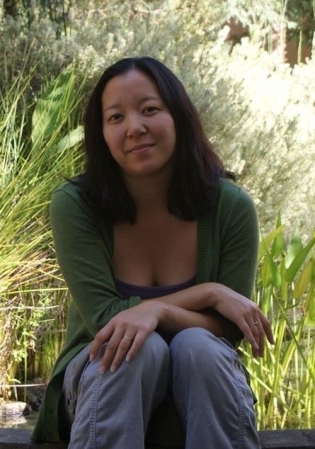 Photo of the author by Julie Thi Underhill
From
this present-day moment, the novel shifts time and changes perspective in successive
chapters, conveying a different character's experience within either the Vo or
Truong families. The flashbacks provide glimpses of past memories that continue
to inflict bitterness and rage. The most striking story comes from Cherry's
grandmother, who had initially been left behind in Vietnam and now wields power
over her family in America. Grandma Vo's inflated sense of self-worth and ruthless
authority are nearly comic in scope and execution. But when she decides to
teach Lum a lesson for his gambling addiction, she exposes herself as a
self-aggrandizing, ego-driven woman less interested in educating a grandchild
than in exacting revenge, and the pattern of family fissures seems destined to
continue.
Some
of the other characters are less powerfully drawn. The elder Truong grandmother
and grandfather tell stories of how they have endured the oppressive
obligations to their French sponsors, the devastating memories of sexual abuse
within their family, and the shame and pleasure of watching the younger
generation come of age in France. While the events being described are
undeniably moving, the novel could have done more to develop these characters
as they attempt to maintain their integrity and remain a coherent family.
Still,
Phan's gifts are considerable, and the novel is at its best in exposing the
dark underside of family relationships while simultaneously creating many
sympathetic, realistic characters. For Phan, there are no heroes or villains,
no stereotypical submissive Asian immigrants or loud-mouth Americans. Her novel
focuses on the familiar characters of everyday life -- those family members
whom you love, tolerate, and sometimes despise. With the return to Cherry
Truong's voice at the end of the novel, Phan gestures toward the uncertain
knowingness possessed by a younger generation of Vietnamese descendents living
in America and France, and their continuing -- and at times successful -- struggle to
comprehend the legacy of Vietnam.
* * *
Jee Yoon Lee teaches at the George Washington University and maintains the blog writinglikeanasian.blogspot.com.