After
Maya Das's grandmother passes away, a terrible sequence of events causes Maya to
wonder whether her family has been cursed. Her boyfriend Scott attempts to
console her, but Maya ultimately refuses to let him help. Is she worried he
won't understand her and her family because he's not Indian? Or that she would
have to explain too much? Slowly, she begins to recognize her own preference
for sharing these for-better-or-worse moments with someone who shares a similar
ethnic heritage.
Eleni
N. Gage has certainly chosen a relevant topic for her first novel, Other Waters. According to the 2012 US
Census, one in ten American marriages (and 18 percent of unmarried heterosexual
relationships) are between partners of a different race or ethnicity. But in spite of this overall increase, a recent
Pew Research Center report found indications of a (slight) decline in the
number of Asians who intermarry. Gage's novel offers
one reason for this trend. For Maya, whether she chooses to date or marry Scott
depends less on parental or social prejudice and more on his ability to
understand her and her family.
But is
this rationale persuasive or merely reductive? (Or perhaps a bit of both?) In writing about India, Gage certainly hasn't
been able to avoid some of the more obvious traps. Her novel falls into the
shopworn travelogue theme in which India is exotic and therefore can school
non-natives in the practice of becoming decent human beings. Other Waters perhaps expands this a bit
by allowing the self-realization to affect both Indians and non-Indians alike.
Nevertheless, one wonders whether traveling to India invariably provides such
an experience of self-realization and enlightenment -- or whether such an oft-told tale needs yet another retelling. Some readers may no doubt find this
interesting; others will find themselves sighing at the trotting out of the
mystical Indian curse, which seeps into more of the novel than it should. When
Maya plunges into the Ganges to rid herself of the curse, and later attempts to
cleanse herself of any residual effects by a dip in the Hudson, the novel tips
from cliché into something approaching self-parody.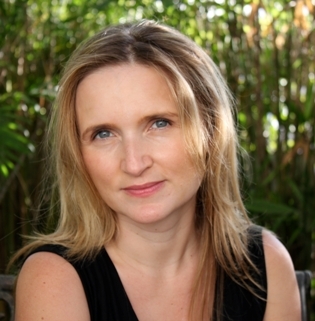 Photo of the author by Emilio Baltodano
Gage
does better with the heartwarming female friendship between Maya, the Indian
American psychiatrist, and Heidi, the white American fashion designer -- and it
is here, removed from the magic and mysticism, that the novel provides
flashpoints of acute cultural awareness. When Heidi thanks Seema, Maya's
mother, for a cup of afternoon tea, she does so by saying, "Thanks for the
tea, Seema-auntie."  The overly
familiar gesture does not go unnoticed:
Once
Heidi was gone, Seema said to Maya, "Heidi is such a very nice girl."
She plucked a stray hair off of the front of her cardigan. "But she is not
one of us, and I am not her auntie," she added, and disappeared into the
kitchen.
In such
scenes as this, Gage recognizes the difference between assumed intimacy and
actual acceptance, even in a friendship as strong as Maya's and Heidi's. The
relationship between an Indian and non-Indian female is not exactly new either --
think Bend It Like Beckham rather
than Best Exotic Marigold Hotel -- but
in the context of Other Waters it at
least has the virtue of being more successfully nuanced. As Maya navigates her daily life in Manhattan
and, later, her travels to India for a family wedding, she comes to rely less on
her boyfriend and more on Heidi, and we readers are afforded a view of
something more plausible and interesting than curses or dunks in spiritual
waters: a compelling portrait of a friendship marked by humor, insight, and the
eternally relevant search for self-awareness.
Jee Yoon Lee teaches at the George Washington University and maintains the blog writinglikeanasian.blogspot.com.