The cast of The Mindy Project 
Hello
Hyphenites! It may be summer hiatus for most TV shows, but the past two weeks
have still put a few South Asian actors in the spotlight. Let's dive right in.
On the
Air:
For
those of you who haven't had a chance to watch Aaron Sorkin's new series The
Newsroom, let me give you a rundown. The show takes place in 2010 and follows
Will McAvoy (Jeff Daniels), a cable news anchor who (correctly, in my opinion)
decides that the 24 hour news cycle has completely destroyed national discourse
with its junky sensationalism. With the help of his new Executive Producer and
Peabody Award winning ex-girlfriend Mackenzie, he tries to make the news, and
America, good again.
Every
television critic on the planet is up in arms about the, as one Vulture writer
put it,  "fascinating calamity" that is
this show.  I have a complicated
relationship with it -- I love almost everything that Sorkin has ever written,
so watching The Newsroom is a frustrating experience. As each episode plunks
along with a tedious metaphor and a condescending pontification, I've struggled
to figure out what exactly rubs me the wrong way. Here's the conclusion that
I've come to in a nutshell: Sorkin's has always been preachy, but he's also
always brought the audience along with him as allies in the fight for good.
This time I feel left behind, because his desire to crucify gossip columnists
and everyone who reads them makes it seem like nobody, his audience included,
are smart enough to tell the difference between the trivialities of the Real Housewives and the importance of national news. So in the process it sometimes
feels like he's turned the sword on us, accusing an entire generation of fans
who were inspired by The West Wing of destroying our national culture, instead
of going after seemingly reputable news networks that traffic
misinformation.     
But I
digress.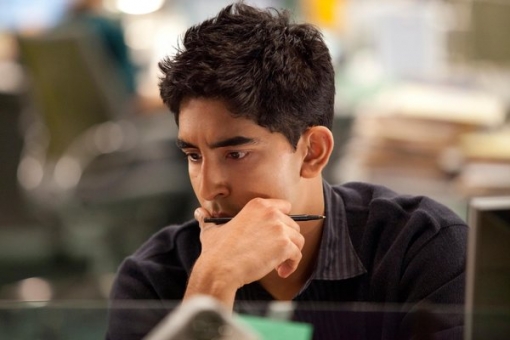 Dev Patel as Neal Sampat in The Newsroom 
One of
the show's stars is Dev Patel (of Slumdog Millionaire fame) who plays Neal, the
show's endearing resident blogger. When I found out that Patel was cast I was
really excited that he wasn't just going to be a one-hit wonder who we would
only see again as an aging bodega owner/surprise serial killer on Law and
Order -- the kind of episodic show that doesn't have to make real commitments
to integrating actors of color. And with the exception of one initial "I'm
going to mistake him for an IT guy to show how much he's actually not a
stereotype!" joke, he hasn't really fallen into a niche with racial
implications, which I appreciate. Neal is pretty much portrayed as a curious,
intelligent, optimistic guy who can be somewhat interesting. But even though he
gets a decent amount of screen time, I'm just not convinced they know what to
do with him yet. At this point, he's more of a convenient plot device than a
character, a person who happens to have just the right contacts in Egypt or
just the right technical knowledge about oil rigs to push a news story forward.
And while a lot of the characters are still a bit two dimensional, he in
particlar doesn't really have any anchor to anything or anyone. Neither he nor
the show have really found any solid footing, but I have hope that this will
change in the coming weeks.
Most
Anticipated This Fall:
Mindy
Kaling is most memorable as Kelly Kapoor (and current senior writer) on The Office.
Now she's coming out with a new romantic comedy pilot this fall on FOX called The Mindy Project. I have to say that I absolutely love Mindy Kaling. I think she's smart,
funny, observant, and willing to embrace the rom-com genre and reclaim it for
what it has sometimes been in the past -- a place where interesting,
complicated women can look for love, and evolve a little along the way. 
The
Television Critics Association interviewed Kaling during their fall TV previews
this week, and everyone was pretty eager to ask Kaling about being an Indian
American star of a sitcom, and how that would influence her writing. She
replied, "There's a saying, I think, that I really believe in, sort of in terms
of my Indian-ness, which is that I try not to rely on it nor deny it. You know,
when it comes up organically in my writing, we can address it."
I
honestly like that answer. One of the things I find most frustrating about
South Asian Americans on TV is that they've almost always been nomadic side
characters or people with anglicized names whose presence is explained away by
adoptive parents. It's like the television world is afraid of opening a can of
worms by casting an Indian American with Indian American parents because it
will hijack the storyline. That's why I'm excited for Kaling's perspective; a
more realistic, unhyphenated existence where being Indian American can be part
of the story, without being the whole ball of wax.
The
Emmys!
If I had
a nickel for every Asian American actor that was nominated for an Emmy this
year, I would have exactly ONE NICKEL. So let's talk about the lucky lady who
scored a nod. This is Archie Punjabi's third nomination (and could be her
second win) for her role as Kalinda Sharma on The Good Wife.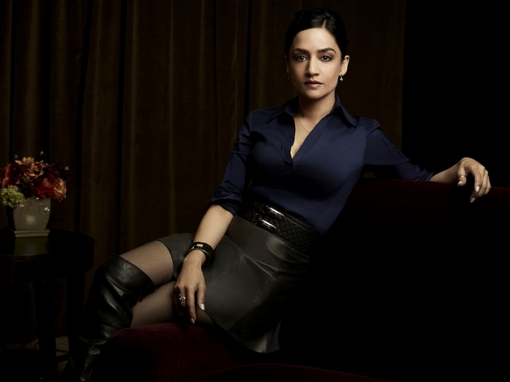 Archie Punjabi as Kalinda Sharma on The Good Wife
If
you're not familiar with the show, Alicia Florrick (Julianna Margulies) is the
wife of the Chicago State's attorney, who after prostitution and bribery
scandal that sends her husband to prison, has to start working as a lawyer in a
firm run by her former law school flame. It's part procedural, part family
drama, part juicy love triangle, and it's just a lot of fun to watch. May I add that they also have a talent for filming obscenely steamy sex scenes without ever having to pan below anyone's waist. The Good
Wife is soapy and satisfying to the point where it feels ever so slightly like a
guilty pleasure, but the writing and acting are both good enough to keep that
notion at bay.
Kalinda
is one of the most fascinating Indian American characters on television; a
tough as nails, enigmatic, and sexually manipulative private investigator who
works at Alicia's law firm. I find it intriguing that the role (which is
already pretty unorthodox for a female character) called specifically for an
Indian American woman -- as of now her ethnicity hasn't ever been a plot point
so I'm curious to see why the creators made that specific choice. Regardless,
she's always played the role with an impenetrable toughnesss, and I'm looking
forward to seeing what's next.
Overall I'm really excited about how rich and interesting these roles are -- I think The Mindy Project is going to be really fun, and I have faith that The Newsroom will pick up as it moves towards mid-season. As for whether or not The Good Wife is going to have another unfathomably hot sex scene, I couldn't tell you. But if they created an Emmy category to reward that kind of talent, I wouldn't complain.