Rivers divide and connect. They
divide land and connect bodies of water. Similarly, Jenna Le's Six Rivers oozes
with nostalgia for her distant motherland and her intellectual ancestors, yet,
by writing so vividly about these far-off people and places, Le conjures them
closer. Funny, ferocious, and lyrical, Le chronicles her Vietnamese heritage,
family lore, sexual awakenings, and her gorey trials as a doctor, all divided
by chapters named after the rivers in her life, real (The Charles River),
fictional (The River Styx), and creative (The Aorta). Finally, she summons her
feminist idols: poets, physicians, and mathematicians who championed the arts,
like herself.
Her book starts with a bang: The
first poem is titled "Mom's Cocks." So begins a hilarious tussle with sex that
rages throughout the collection. In this case, "Cocks" are roosters in Vietnam
that humped the narrator's mother's shoe: "She's returning to her roots/ as a
child who lived among/ unmannered beasts." The poem manages to be uncomfortable
and heartwarming at the same time. We can't help but wonder if the "unmannered
beasts" might have included American soldiers or other unwanted men. Yet, the
young narrator identifies with the rooster in her mother's tale: "And I,
through hearing her words,/ am returning there with her: I am the aggressive
rooster; I'm the hens/ cowering behind the outhouse; I'm the much-abused,/
much-abraded, Size Four shoe." Even as she grows older in the book, Le's
narrator is able to empathize with all manner of creatures, ghosts, and
inanimate objects, in a charming and lighthearted form of magical realism.
When writing about her family, Le
channels the livid and lyrical voice of Sylvia Plath's "Daddy." The poem
"Inheritance" begins with a bitter tone toward her relatives: "I have my
ancestors to thank/ for the skin between my stretch marks...No other heirlooms
have lasted." It isn't until the final stanza of the poem that we discover the
actual source of the narrator's rage: "I have last century's warmongers/ to
thank for this sorry fact:/ politicians, children trained to kill,/ and an
ocean, stormy-yellow-black." Her inheritance includes more than mere genetics;
she inherits the ravages of social injustice.
Once her family moves to the
United States, the narrator writes about assimilation with more levity:
"America, you're the Halloween costume/ my immigrant father/ rented and never
returned." Adorable and funny, this fantasy makes immigration seem harmless:
her "reptilian tail[ed]" father hunts for "the season's sweet treats" in
bountiful America, and seduces her mother "behind a tall hedge." But the
sweetness of this vision vanishes: "the costumier/ is demanding you back./ He
calls our house daily,/ ringing the phone off its hook." The reader is stunned
with this change in tone as her family must have been when discovering the
harshness of America. Le dances between comedy and tragedy effortlessly.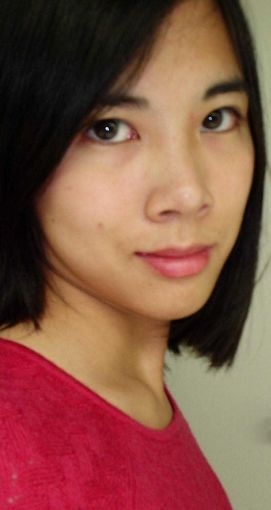 Author Jenna Le
We follow the narrator as she
enters college, moves to New York, and finds romance that expands and
challenges her sense of self. Her forms range from the French villanelle to the
Japanese Haibun and Tanka. The so-named "Haibun" meditates on the dangers of
sex: "At eighteen, I had an overblown fear of losing my virginity," she begins.
But the brush with abortion at the end of the poem teaches the narrator that
her fear wasn't so overblown. Once she is older, she and her mate were "not
realizing that death doesn't borrow: it only takes." This turn is chilling.
At times, Le's anger seethes too
strongly. In "Troubadour's Song," she lists off a litany of insults against a
"cast-iron whore," without showing a flicker of sympathy or indicating what
might have happened between the narrator and the "gutless minnow." The poem
begins much the way it began, without any revelations in between: "your mouth
is a nest/ of bird shit, betrayal." This level of loathing feels unearned.
Thankfully, Le weaves her words
meticulously for most of the book. She meditates on her double-life as a
physician and poet through visits with her intellectual grandmothers, such as
the first computer programmer and daughter of poet Lord Byron, Ada Lovelace. After
the young mathematician learns that numbers are an acceptable occupation for a
lady, Lovelace's character makes a telling admission: "From then on, my mind
was a fully functioning piano,/ unlike other girls' brains, clogged with the
soft mush of poetry." The irony here is that Le herself doesn't see the two
subjects as mutually exclusive. Her own mind is "a fully functioning piano,"
running over the keys of poetry with a keen ear for rhythm and, yes, numbers.
Through rigid structures such as the villanelle, she dissects the human body,
in all its beauty and gore, as openly she would on her operating table. This is
not "the soft mush of poetry," but something much stronger.
Rebecca Huval blogs
and grant writes at the documentary organization Independent Television
Service. Her writing has appeared in Mother Jones, The Miami Herald, and
McSweeney's Internet Tendency.