photo by Beto Sepulveda 
Kelly Zen-Yie Tsai's vision for her post-Sept. 11
play Say You Heard My Echo isn't so much about reliving the tragic events
of that day as it is about finding progress in the reverberations of it.
The piece, which the veteran spoken word poet
refers to as "spoken word poetry theater," revolves around three Asian American
women living in New York one decade after the fall of the Twin Towers.
Each has a unique connection to the historic
day, and their individual struggles to come to terms with the resulting
isolation, disorder, and ultimately, survivorship, of Sept. 11 unfold in a
series of poems, folk songs and raps.
Spirituality plays a large role in the women's
dealings with the aftermath, and it manifests itself in the form of three
goddesses - Mary Magdalene, Guan Yin and Aisha - who help to guide the three
characters.
Here, Tsai tells Hyphen about the inception of
her piece, the exploration of themes of interconnectivity, and her pet peeve
when it comes to spoken word poetry.
What brought about your interest in writing a
longer form piece in the first place, and why Sept. 11?
So the way it all worked out was I was talking
to Nico Daswani (program director at the Asian American Arts Alliance, or A4)
back in February of 2011 and he told me that the Alliance was thinking about
putting together this big festival for 2012, and he was talking about the idea
of showing off the life of four different Asian American communities in New
York. And I thought "Wow, what an interesting concept."
He kind of said, "Well, let's talk about what
you do and how we can kind of collaborate together" and so I was thinking about
different ideas about spirituality and AAPI communities in New York and also
about New York in a post-9/11 exploration. It was more of a temperature check
of where we are now, about how contemporary history continues to live on
through us today.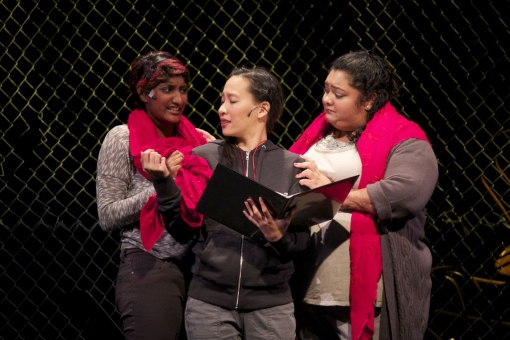 photo by Adam Payne
How did you come to have fellow poets
YaliniDream and Adeeba Afshan Rana fill out the three-woman piece?
I specifically picked YaliniDream and Adeeba
to be my collaborators and performers on this piece because they're both
writers and artists who are very very close to their faith. For Yalini, Catholicism
is something that's very close to her and she has a very specific way in which
she reclaims that for herself. And Adeeba is also very spiritual. I grew up in
a very mixed Buddhist-Christian household -- like, the missionaries prayed for
my grandma when she was sick and then my mom was like "Yeah, and then we became
Christian." I definitely have a mixed relationship to it, but it was great that
during the process we could talk about these issues.
There are goddesses involved in the piece that
serve as spiritual guides to the characters. How did spirituality play a role
in your play?
When I was talking to Nico last year, the idea
of faith, the idea of spirituality and really thinking about what that means
inside our immigrant communities really stuck with me. When you have so many
traditions passed down that continue to play out and the prospect of one thing
affecting that, that was interesting to me. I think that if you look at my larger
body of work and poems, you can see that there are some times when I write
about religion, although that is definitely not what I write about exclusively.
But it's one of those challenging questions.
Where are things like religion and faith when you go through things that are
difficult, like being a survivor of the Twin Towers, or having been a victim of
war, or having been basically interrogated and detained and having your civil
rights taken away? When you're in those kinds of situations that really test
your faith and you're thinking about how to survive, what does that
relationship look like?
What was it like writing three different
characters and three different voices, versus just the one for your spoken word
poems?
Each of the characters has a very unique
rhythm. And their worlds are very different. I had one of my collaborators read
a draft and they were like, "Was this written by three different people?"
(laughs). And I was like, "No, just the one." I like that the characters are
driving the rhythm of the piece, and that relationship to rhythm is very
important.
I interact with people all the time in terms
of spoken word, and I always say that one of my pet peeves is when people start
taking on someone else's rhyme and thought pattern because what the fuck is
that? Because for me, poetry, growing up in the spoken word community, was very
much about you and your own personal narrative and your own personal language
and your own personal relationship to rhythm, which is very specific, very
unique. And you should honor that.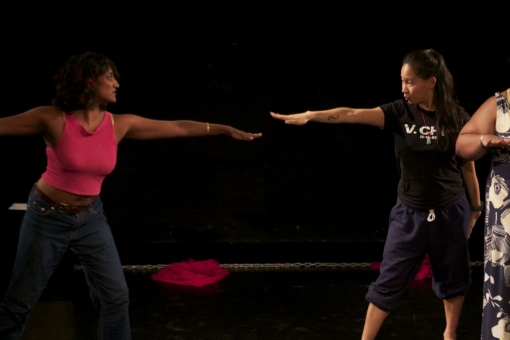 photo by Beto Sepulveda

What is it about the events of 9/11 and about
New York that really inspired your work?
I think that there is definitely something
about the city that speaks to all people from around the world. Say You Heard
My Echo is really three short stories that were put together with three major
characters, but they're not interconnected in the sense of "Wow and then they
passed each other on the subway," you know? They are all a part of New York,
they are all a part of this social fabric that we live in.
And I think that's true for all of us, that
this chain of events has really affected us in different ways and even though
we could have so many commonalities if we were able to share our stories with
each other, a lot of times we don't have the opportunity to. So in my mind, I
think that these characters probably exist, are probably living in close
proximity to each other but probably would never interact at all.
And they would never know each other's
stories. And that's the benefit of our performance, we can weave these three
lives together, and gain from one another's journeys and struggles.
***
The creation of "Say You Heard My
Echo" was supported, in part, through a commission for Kelly Zen-Yie Tsai
from Asian American Arts Alliance with major support from Asian Women's Giving
Circle and additional support from Flushing Council on the Arts and New York
University's A / P / A Institute. Presented by Moving Earth Productions.
Playing at the HERE theater, 145 6th Ave. from
Sept.12 through Sept.16 for six performances only.
Buy tickets here
$15 Discount Ticket Code: FESTIVAL