Grace Jung is a New York-based writer, translator, and film
producer. Her debut novel, Deli Ideology,
tells the story of LJ, a disenchanted twenty-something Korean American woman
navigating the murky terrain of identity. Grace talked with Hyphen's Rachel Rostad about her book, deli culture, and her current work on the documentary A-Town Boyz.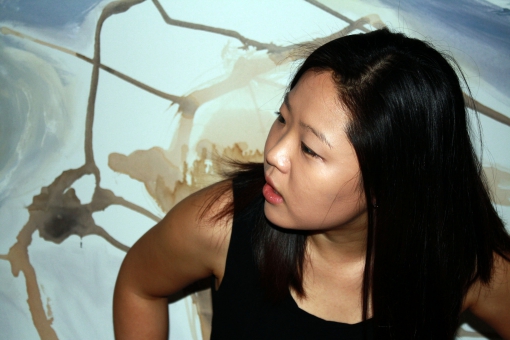 RR: What's behind the
title Deli Ideology?
GJ: There's a "deli culture" [in New York] mostly run by
immigrants—the Polish Jews, the Italians, the Germans, they all have this deli
immigrant experience. Nowadays there are a lot of Koreans and Latinos. A lot of
twenty-somethings who are fresh graduates seem very hell-bent on ideology,
whatever it may be…and on finding the right values to have. I wanted to discuss
that obsession in the title, because LJ is at that age where she's thinking
about the values she needs to take on in order to live her life. 
RR: There seems to be
a theme of transience throughout the novel, like when LJ and Daniel are by the
river, building a well they know won't last. Do you think that's an important
theme?
GJ: When LJ and Daniel were building the well, they know
that the tide is going to come in eventually. Nature is going to take its
course. So that's a good question: Why bother? Why write something, or design
something, or pursue any sort of artistic pursuit? You're putting in your
effort, there's sweat on your brow, and you're creating something for that very
moment.
RR: You deal with race in an interesting way.
Could you tell me more about how you handle race in your writing?
GJ: I'm a Korean American writer, and I just didn't read
that many books by Korean American writers. And whenever I read poetry or
fiction or essays by these heralded literary figures…they would always make a point
of mentioning anyone who is a person of color. The default is white and male.
And so, in my novel, whenever there's [a character], the first thing I will do
is indicate who they are ethnically. In part, it's sort of a satirization, a
critique of our mainstream literary field. They're taking up too much time
figuring what the right way is to describe people of color, or how they're
supposed to include diversity in the literary realm. And while they're doing
that, the voices of people of color are still being neglected and ignored.
RR: Could you talk
about your work on the documentary A-Town
Boyz?
GJ: I'm producing a documentary directed by Eunice Lau,
about Asian American men from Atlanta who have all been in gangs at one point.
The documentary explores scenes of masculinity and the working class immigrant
life, and how American society sort of leads these young men to be neglected
and forgotten. Atlanta is this beautiful and historically rich place, and it's
also very segregated between white and black. If you don't fit into either
[category], you sort of fall through the cracks.
RR: Did you work ever
work at a deli?
GJ: I did work at a deli, seven days a week, when I first
graduated. I wasn't even sure what field I wanted to go into. I knew I wanted
to do literary or film-related work, but those jobs were just not available at
the time. So I was working three to four jobs, and my weekend gig was running a
cash register at a deli. And the irony of it is that the older generation, many
of our Korean American parents, they also had those typical immigrant jobs. I'm
a college graduate, a Fulbright scholar, and here I am working at a deli. It
was hard, but what I loved about working there is that I got to experience what
our parents' generation experienced, which was complete and utterly difficult
work. Dealing with customers -- it's so hard, you know. But being able to
experience that was incredible. It made me appreciate them and what they do. And
the deli is also an incredible place. It's so small, and yet it has the most
diverse community of people in it, all in a single hour -- so many different classes,
so many different races, so many different kinds of people and professions. You
know, eating is the only thing that everyone has to do. It doesn't matter how
wealthy or poor you are; at some point, you are going to step into a deli and
get a sandwich!
Order Grace Jung's book here. Follow her on Twitter here. Deli Ideology cover art created by Catherine Min.
***
Rachel Rostad is a writer, activist, and Korean adoptee. If you like what you read, check her out on Facebook and Twitter.