After months of campaigning by immigrant and LGBTQ rights groups, Nicoll Hernández-Polanco was freed from her detention by ICE. Her story, written by Kris Hayashi of the Transgender Law Center, is a story of a young woman who escaped the broken immigration system, and how she was criminalized and psychologically tortured simply for being young and transgender.  
Nicoll Hernández-Polanco was a young teenager living in Guatemala, when at the age of 14 she began her transition from male to female. She almost immediately became a target of extreme abuse in Guatemala and then in Mexico. After nearly a decade of physical and sexual violence, she decided to seek asylum and presented herself to agents at the United States border in October 2014.
In her search for safe asylum in the United States, Nicoll was detained by Immigration & Customs Enforcement (ICE) for six months because, ICE claimed, her previous deportations when she tried to flee transphobic violence as an unaccompanied minor made her a priority for detention. During her detention she experienced sexual harassment and abuse at the hands of the ICE staff, the very people she sought out to help her escape her other abusers. She also survived sexual attacks by other detainees during her long wait to see if she would be granted asylum.
Last week, after months of campaigning by immigrant and LGBTQ rights groups, Nicoll was finally freed. Unfortunately that victory is the only part of Nicoll's story that differs from the experiences of most transgender women caught in the United States immigration system.
Nicoll Hernández-Polanco
As a transgender man and a person of color, I am deeply disturbed by the US immigration system's discriminatory treatment of transgender people and by the broader criminal justice systems targeting our communities. Although there is not much data around AAPI communities in immigration detention, we know that members of our communities are trapped in an unjust immigration system: Southeast Asian, Pacific Islander, and South Asian communities are some of the most vulnerable prey in this system and more broadly, the prison industrial complex. We need to make these stories more visible, and we need queer and trans AAPI communities to demand an end to detention, particularly of those communities that most frequently experience violence and violations of their human rights in detention centers.
Transgender detainees are regularly subject to horrific abuse. According to recent Bureau of Justice Statistics data, nearly half of the alleged instances of sexual violence in prisons and jails across America are actually committed by facility staff. Nicoll's gender, like that of many transgender immigrants, was disrespected by ICE from the moment she entered the system. She was placed in an all-male facility in Florence, AZ against Department of Homeland Security regulations, which require that ICE take gender identity into account in facility placement. Nicoll was required to shower with, use the restroom with, and sleep in the same room as men. As a result, predictably, Nicoll was sexually assaulted by another detained immigrant.
A recent Fusion investigation found that transgender migrants, most transgender women, are detained by ICE each day in conditions that Fusion reported were "often humiliating, dangerous, and even deadly." Although transgender women make up only 1 out of every 500 detainees, they make up a shocking 1 out of every 5 substantiated cases of sexual assault in immigration detention facilities.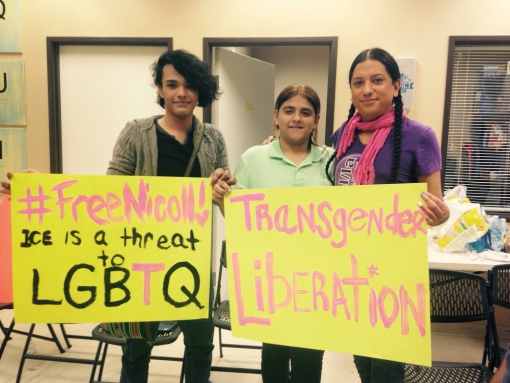 Transgender women's very humanity is denied in detention. Transgender immigrants who fight their deportation can spend years alone in solitary for twenty-three hours a day. Extended solitary confinement, widely considered a form of torture for its extreme mental and physical impacts, is often proposed as a "solution" by ICE for transgender detainees who face assault when housed in facilities that do not match the gender they live as. Many traumatized detained transgender immigrants simply give up and accept deportation because they would rather risk possible death than continue with the torture of solitary confinement. In Nicoll's first month detained, she was patted down six to eight times a day by male guards, who would grope her breasts and buttocks, make sexually harassing remarks and gestures and sometimes pull her hair. ICE staff routinely verbally abused her because of her gender identity, calling her "fucking gay," "bitch" and "the woman with balls" in front of other detainees. A female guard refer repeatedly to Nicoll as "it" in front of her attorneys.
This is not an issue impacting just a handful of people. An estimated 20,000 transgender adults in the US are undocumented, and thousands of transgender youth who came to the US at an early age also lack legal status. Transgender and gender nonconforming immigrants are building community, speaking out and mobilizing for their rights alongside other targeted communities. Thousands of transgender American citizens have immigrant partners or other family members who have been or may be separated from them by our immigration laws.
It is time for the disenfranchisement of trans and gender nonconforming people to stop. Join me by signing the petition in calling on President Obama to end the detention, profiling and deportation of vulnerable communities, including LGBTQ immigrants.
***
Kris Hayashi is the Executive Director of Transgender Law Center. He has been active in social, racial, and economic justice organizing for over 20 years, including ten years as the Executive Director/Co-Director of the Audre Lorde Project, a Lesbian, Gay, Bisexual, Two Spirit, Trans and Gender Non-Conforming People of Color organizing center based in New York City.  Previously, he served as a Trainer/Organizer at Western States Center in Portland, Oregon and as Executive Director of Youth United for Community Action, a youth organizing group in California, led by young people of color organizing for social and environmental justice.