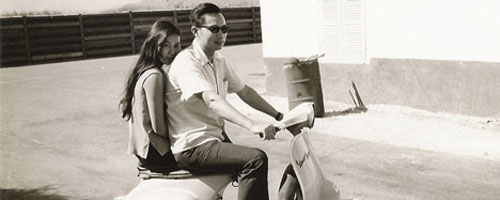 Footage from Oh, Saigon, dir. Doan Hoang.
Partly to review some films for our blog readers and also for myself, since this year's festival coincides with the birth of my baby. Knowing that I couldn't/wouldn't attend any of the actual events and films, I selfishly hoarded a bunch of media screeners. Yeah!
Among those films are Ghosts, Shanghai Kiss, Oh, Saigon, Cats of Mirikitani (which I had time to blog about while I was still pregnant) and also Owl and the Sparrow.
(Yeah, I know, pretty ambitious considering now I barely have time to take a pee break between breastfeeding. Whatever you're thinking right now is fine. All I know is this says a couple of things about me and the film festival, or rather just about me: the film fest is important to me for a whole slew of reasons which I can't expound on right now - and that maybe I'm not too grounded in reality, but whatever).
I know blog entries are supposed to be a person's commentary and opinion and such, and I know also that film critics/reviews are generally pretty intelligent or at least well written, but bear with me 'cause I really don't feel like I have anything intelligent to say about the films.
Not to say that the films I screened aren't worth watching; quite the contrary! Well, with the exception of one of the films. Ghosts, Oh, Saigon, Cats of Mirikitani and Owl are all quite good.
Without going into much detail, I'll leave it up to the film festival's own writers/reviewers and their descriptions. Actually, I find that most of their descriptions of the films are pretty accurate, since that's how I decided what films I wanted to screen anyway.
Shanghai Kiss (playing Friday in San Jose) - well, the acting is pretty good but the script is just a little unbelievable. Praise for making an Asian American feature-length narrative, but it does just fall short of my expectations. I have a feeling both shows are sold out 'cause the supposed premise is a love connection between two Asian/Americans - and it stars Kelly Hu.
Owl and the Sparrow is also a little hard to believe but the story is just so beautiful and the little girl actor so endearing, that it doesn't really matter. The characters: an awkward zookeeper, an awkward flight attendant, and a sharp little orphan girl - can't beat that!
Ghosts (playing today in SF) is not about Asian Americans but rather undocumented Chinese immigrants in England, but the experience is pretty "universal." It's not a documentary but it is based on a true story and is just an amazing film if you care at all about people. It sort of reminds me of Fast Food Nation, another good film that few people saw, that people thought was a documentary - both focus on the plight of undocumented workers.
Oh, Saigon (playing today in SF and Sunday in San Jose) is, like Cats (playing Saturday in San Jose), a lot about discovery through the process of filmmaking. It's pretty cool since the director, Doan Hoang, documents her family. It's hidden family secrets, crazy family dynamics and all that juicy stuff tied into politics and more. Good, real life lesson on conflict resolution, something I think anyone can relate to, but this is specifically about a Vietnamese family living in the midwest and their return to visit Vietnam and the rest of the family that didn't leave.
...
Visit the film festival's website for more information on when the films are playing, where and how to get tickets.