I was walking past it on a foggy San Francisco night, and thru the window, lo and behold, I noticed Zeenat Aman looking back at me. She was being projected on a wall inside the bar. Vibrant, buxom, and grainy, in all her 1970s Bollywood splendor, there she was, beckoning me to come out of the fog. I had to pinch myself; was this a new bar built around the cinema of Bollywood? Could it be? Genius.
It finally made sense to me on Thursday night, when I was invited to check it out again…this time, Bollyhood Cafe was fully open and hosting a Yelp! Elite event. The place was brimming with people, and I barely made it thru the doors. I was surrounded by Yelpers, an elite group of mostly non-south Asian writers and reviewers who are part of Yelp.com. Within a few minutes, I had found Ivan Jaigirdar, one of Bollyhood Cafe's key creative architects alongside partners Marco Senghor, who owns Bissap and Baobab next door, and Gianmaria Clerici.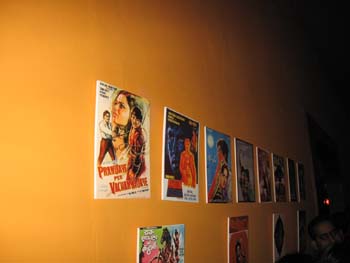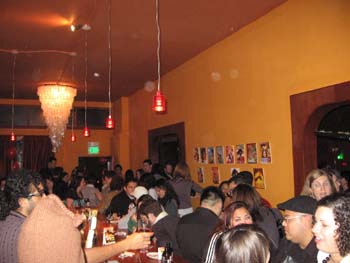 He explained to me that the impetus to make Bollyhood Cafe a reality came to him in a vision 6 months ago, but it represented something that he had always wanted: A place for Third I, the south Asian film organization he co-founded, to call home…a lounge where films could be screened, people could chill, and celebrate all that is good (and tacky) about Indian Cinema.
Sure enough, what grabs you as you first enter Bollyhood Cafe, is the giant Bollywood vixen towering above the crowds on the garish film poster on the wall. A massive and beautifully hand-crafted bar commands the main wall and is framed by an oversized colored filmstrip made of wood. Hanging in the corner, a simple menu featuring daal makhani, kofta, coconut curry, and a few luscious Indian desserts (everything is under $8) indicates the unpretentious nature of the space. Opposite the filmstrip-inspired bar is an impressionistic wall of colors and lights (requiring many months of labor and inspiration, according to Ivan).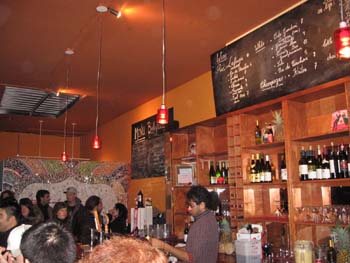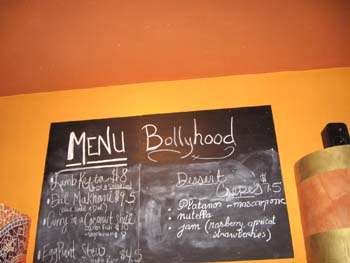 But at the very back of the bar is that which is most sacred, most hallowed, and most relevant to Bollyhood Cafe…a giant screen, constantly showing something connected to Bollywood. Maybe it is a film from the worldwide south Asian diaspora. Maybe it is one of Bollywood's most recent and most ostentatious film productions. Maybe it is something more classic, from the early years of Bollywood. Tonite, it was Maqbool, the most amazing adaptation of Shakepeare's Macbeth ever. Why? Because this version takes place in Mumbai's slimy mafia underworld.
Just like Bollywood, Bollyhood Cafe is accessible, saturated with color, campy, and a great way to escape from reality. Highly recommended.
How to Get There:
Bollyhood (http://www.bollyhoodcafe.com)
3372, 19th Street
(Cross Street Mission)
San Francisco, CA 94110
(415) 970-0362
__________________
Robin Sukhadia
Mr. Hyphen 2006/2007