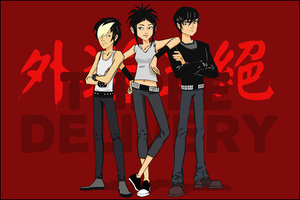 Described by the New York Times review as "somewhere between 'Flower Drum Song' and 'Scooby-Doo,'" "Three Delivery" promises to deliver. Apparently, the storylines and characters are set in Chinatown, San Francisco, featuring two boys and one girl who were orphaned and now work at a Chinese delivery (bear with me), but their Asian background almost seems incidental.
The kids speak with American accents and aren't pigeonholed into the usual "cute Asian," "nerdy Asian," "thug Asian" stereotypes. They surprisingly seem portrayed as -- well, normal Asian American kids growing up in the Bay Area (who happen to fight evil). And according to the NYT reviewer, all the show's writers don't seem to be Asian American. Huh.
Just caught a teaser clip or two on YouTube, and it doesn't look too bad. Sure, it employs all that exotic, ancient Chinese kung-fu mystical magic potionry hoo-ha, but hey, the main characters' names are Sue, Tobey and Sid. I'll give it a chance. Baby steps, baby steps.
"Three Delivery" will air regularly on Nicktoons, Fridays at 7:30p.m. EST.