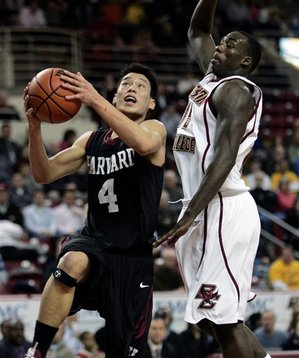 Yesterday Time Magazine picked up on Jeremy Lin's story, and the Washington Times covered him recently as well. In the Times article Lin drew praise from college coaching legends like Jim Calhoun and John Thompson, who said,


"There are a lot of teams that come through here," Calhoun said. "I can't think of a team that he wouldn't play for."... "He's spent the last four years proving that he can play with anyone in the country," Thompson said. "He's terrific, and it's not just his scoring. He does everything well. He's extremely unselfish. It seems like he's always involved in every play -- whether it's an assist, a rebound, a deflection, a stop, whatever."

I went to see Lin play last week, and felt proud not only to see an Asian American play so well in a sport where the sight is such a rarity, but also to see the way he conducts himself on and off the court.
Lin has a very team-oriented approach as a player and as Harvard's captain. During the player introductions broadcast through the arena, in which Harvard introduced Lin last (conventional for any home team's star player), Lin skipped his own individual introduction and instead started a team pre-game huddle. He was the best player on either team, not just dominating the game statistically, but playing with artistic and entertaining athleticism: eye-popping blocks, steals, drives, and points-after-rebounds, all with ease. As the team's best defender, he also guarded the opposing team's power forward and center for over half the game. He showed all facets of his all-around game.

I think Lin has a very unselfish, blue-collar style of play on the court. During much of the game (especially early on) he kept feeding his teammates the ball, diving for balls or rebounds, and took tough shots when the shot clock was winding down to bail the team out. Based on his solid fundamentals and the ease with which he scores, I believe he could probably average 10 more points per game with little or no drop in his excellent shooting percentage if he wanted to. His game is unselfish like Steve Nash, but I think his NBA draft stock would possibly improve if he had a more Allen Iverson or Kobe Bryant-like shooting mentality.

The crowd was a mix of fans of all types, and their reactions during the game were pretty similar. Most did not particularly notice Lin during the introductions or early on in the game because of Lin's own unassuming and low-key demeanor, but with every spectacular play he made on the court, I noticed fans looking Lin up in their programs, and publicly admiring his talent. By the time his coach sat Lin down near the end of the game for good, fans from both teams were applauding his performance.

If Harvard wins the Ivy League title over Cornell this year, they will be in the March Madness Tournament. For fans of Jeremy Lin who live in the Bay Area, Lin and Harvard will be playing the Santa Clara Broncos this Monday, January 4th, at 7 pm (see the Hyphenite below for details). The Dream League is organizing groups of fans to come and support Lin as he returns to the Bay Area to play in front of his hometown fans. Come check him out if you have the chance!
Other Hyphen-related articles:
Basketball Player Extraordinaire, Pioneer
Jeremy Lin a Finalist for Bob Cousy and John Wooden Awards
Jeremy Lin on Verge of NBA Contract