Photo of main cast, used with permission of National Film Society.
When Patrick
Epino and Stephen Dypiangco made the bold decision to finally kick their YouTube
success up a notch in early 2012, they knew they would need a little help from
their friends.
Epino and
Dypiangco, who co-founded the National Film Society (a goofy, brainy PBS media
studio) back in 2011, sought to bring their love of '80s and '90s action flicks
to the big screen. They were particularly interested in highlighting the
industry's unsung heroes – namely, the Asian bad guys condemned to
mere minutes of screen time, often followed by a gruesome death (think Die Hard, Bloodsport, and Karate Kid 2).
That's how Awesome Asian Bad Guys was born.
"I think the
plan was just to assemble the team and then build momentum from there," Epino
said. "We hypothesized that it would be great to bring these guys together [in
a film], kind of like an Asian Expendables,
and we wanted to make something substantial."
In May 2012, the
pair approached Angry Asian Man blogger Phil Yu at the Los Angeles Asian
Pacific Film Festival and told him their idea.
"We asked him,
'Do you want to do this?' and he was instantly like, 'Yeah, I'm on board,'" Epino
explained. "And from there, everybody bought in."
The concept
behind the action-comedy was simple: Reunite some of Hollywood's most notorious
Asian American bad guys in a single film, with the goal of taking down a
fictional bad guy, played by Aaron Takahashi (Better Luck Tomorrow, Welcome
to the Jungle). With writer Milton Liu (Jesus
Henry Christ, Seibutsu) penning
the script, Epino and Dypiangco continued to build their dream team, which
included Randall Park (Larry Crowne, Fresh Off the Boat) and veteran action
stars Al Leong, Dante Basco, Tamlyn Tomita, George Cheung, and Yuji Okumoto.
"We'd been in
touch with Al via Facebook for a while, but getting him on board took some
convincing," Epino explained. "He didn't think we were funny. Then it was just
kind of a process of getting one person in order to get the other. For example,
Yuji was up in Seattle, and when we approached him, he was like, 'Who are these
guys and what the heck is this?' It was Tamlyn [the two actors costarred in Karate Kid 2] who told him, 'It's okay,
they're harmless.'"
Hyphen recently sat down with Patrick Epino (co-Director), Phil Yu (Executive Producer), Milton Liu (Writer), and Aaron Takahashi (Actor) at the
Asian American International Film Festival in New York to learn more about how
the power players felt about joining forces, the most surreal moments on-set, and which star was bombarded at the CAAMFest debut earlier this
year.
Hyphen:
What spoke to you personally about this project?
Phil Yu: For me, the idea itself was great. I
thought it was the right time to explore something fun and cool, and they sold
me on the idea alone. I also jumped at the opportunity to work with Stephen and
Patrick because I'm a big fan of their videos… When they approached me with the
title of executive producer, I was like, "What does that even mean?" But then I
said, "You know what? This sounds awesome. Whatever it means, I'll do it."
Aaron Takahashi: When they told me what the film was all
about, I thought it was a very smart idea because this was something in Asian
American cinema that's a truth [and] kind of messed up, but it's not like we're
getting up on a soapbox and preaching to people. They found a very entertaining
way to say, "Hey, this is what's happening, this is how the cinema views us,"
but with a very humorous story.
Milton Liu: When they came to me and asked me if I
wanted to write it, my first thought was, "Why me?" And they said, "Well, when
we do our videos, we ask ourselves, 'Would Milton think this is funny?'"
because I'm kind of the curmudgeon of our group. I loved the concept of it…and
it was really great for me to go back and pay an homage to Karate Kid 2 and Rambo 2
and all the awesome Asian bad guys.
Hyphen:
How did you go about approaching those veteran action stars, and what was it
like working with them on set?
Patrick Epino: Well, Al [Leong] has a huge following. He
actually had someone who was making a documentary on him. And I think we kind
of exuded this extreme fan boy attitude toward him, so I think that helped.
PY: I always imagine that when you guys first approached him and
were idolizing him, he wasn't used to that kind of hero worship. I always
imagine him thinking, "Are these guys f—king with me?"
AT: When we were on set, I was talking to him about how great
it must be to be back in front of the cameras, and he told me he was super
nervous. He was like, "I'm just a stunt man. I don't act. I don't know if I'm
giving them what they want." He was nervous, but he was also really excited
about the project. You could just see that spark, that gleam in his eyes, that
he was so grateful just to be doing this again.
ML: What was interesting was that Al and George [Cheung] hadn't
really reconnected since they were working. I mean, they'd done projects
together, but back in the '80s. So to hear their stories of how, when Rambo 2 was being cast, every Asian left
Hollywood to be a bad guy in that film -- to hear them reconnect and reminisce
like that -- was just fantastic. 
Hyphen:
What were the obstacles involved with bringing your idea to fruition?
PE: We raised $54,000 through Kickstarter for the project, but
we had to spend a chunk of that on Kickstarter rewards and fees, so we had to
make sure to stay under budget. In one of the earlier drafts, before we
realized how much things cost, we wanted to start out with a fight sequence and
war training and all this great stuff – but then we realized we would be
blowing our whole budget for one minute of footage.
Hyphen:
What was the reception like for your first screening at CAAMFest?
PE: It was a hometown screening for me because I'm from the Bay,
and the first night of the screening in San Francisco was the first time we'd
screened it in front of strangers – more than just 10 people in my living room.
It was great. People really responded well, and we had a great Q&A
afterward. Dante [Basco] was up there with us, and the thing with Dante is that
he has his own fan base wherever he goes, so everyone was like, "Rufio! Rufio!"
and we were like, "…what about us?"
ML: We didn't really write with a target audience in mind… We
had a discussion early on that we wanted to make this film for people who are like us, people who love these
action films of the '80s and '90s, because we felt like if we didn't, and we
were just trying to get the teenage Asian American demographic, it wouldn't
serve the story.
Hyphen:
Even though the film is silly at times, there's an important message about
Asian Americans and their representation – or lack thereof. What do you hope
audiences take away from the film?
AT: I think after you watch the film, it sort of begs for that
dialogue. It's kind of like, "Oh right, all those guys died in two minutes,
that's kind of messed up." But it's not like we're hitting you over the head
with that. It's kind of snuck in there.
PY: At the very least, I think people who are watching it will
be like, "Oh yeah, that guy! I've seen that guy in everything!" and then they'll realize they've never seen him live
till the end of the movie. At the very least, I think that if viewers haven't
thought about race representation in Hollywood before, it will send them on
that path. I don't think that's the thing we're trying to needle people with.
It's sort of a nugget of something to tell a funny story. It's a conversation-starter.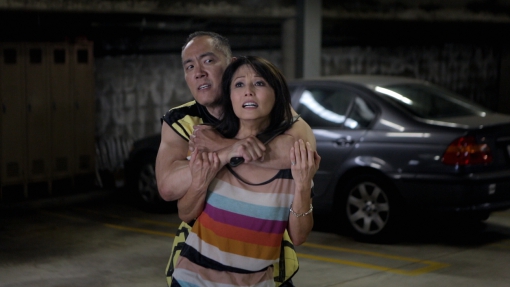 Film still of Tamlyn Tomita and Yuji Okumoto in Awesome Asian Bad Guys. Used with permission of National Film Society.
Hyphen:
What was the most memorable moment on set, working with these Hollywood
veterans?
PY: Karate Kid 2 was such an influential film for me, and
I remember watching it over and over again. I remember that one day I was
watching the playback of a scene with Tamlyn and it was the part where Yuji
takes off his shirt, and I just had a moment. I was like, "I can't believe I'm
watching this sitting next to Tamlyn and Yuji is delivering that line that I've
recited over and over again." It reminded me of why I got involved.
Hyphen:
So what's next for Awesome Asian Bad Guys? 
PE: We have a couple screenings lined up in the next few months,
but in general we're still in the process of figuring out our digital
distribution. We definitely want as many people to see it as we can, and have
people embrace this AABG movement so
that we can do more. I remember when Dante was on set, he Instagrammed a shot
of the theater where we were and some of his [actor] friends were like, "Oh, I
wanna be in that!" How cool would that be? Maybe we'll do seven trilogies.
PY: The people demand it. And we have to give the people what
they want.
***
Joyce Chen is a second-generation Taiwanese American journalist and an MFA candidate in Creative Nonfiction at The New School in New York City. Her writings have been published in People Magazine, Los Angeles Magazine, and the Los Angeles Daily News.