It's a gray afternoon in June, on a sleepy side street in Flushing, N.Y.. Inside, however, on the basement floor of a church, a Korean pop song reverberates throughout a large hall as a group of 10 women, pretty faces glistening with sweat, flawlessly execute a dance routine.
"I want nobody, nobody, but you…" It's a song familiar to anyone with even a mere passing interest in K-pop: the 2008 earworm "Nobody" that first introduced the music genre and the South Korean girl group Wonder Girls to mass audiences in the United States. But these women are old enough to be the Wonder Girls' grandmothers.
This group, mostly in their 70s, is the official dance team of the Korean Community Services of Metropolitan New York (KCS), a nearly 45-year-old nonprofit social service agency that runs two seniors centers in Queens. Their specialty is Korean dance, both traditional and modern, which means upbeat routines to everything from K-pop to Frank Sinatra, and even remixes of "Arirang," the de facto Korean national anthem.

Members of the official dance team of Korean Community Services of Metropolitan New York rehearse a routine to the Wonder Girls' song, "Nobody."
KCS offers some 15 different health-related activities for seniors, from knitting and calligraphy to line dancing, chair exercise, and, of course, karaoke. But this group is the jewel of the center, said program director Helen Ahn, performing at galas and events across the state. "Those performances are really loved" by audiences, Ahn said.
They were one of the first classes when the KCS Flushing center opened its doors in 2002, and they had been practicing together informally for years before that, in whatever churches and basements they could find.
Not just anyone can join. Seniors commit to two two-hour practices a week, and the sessions are a full-body workout This might not come as much of a surprise; after all, Asian American seniors aren't exactly synonymous with being unhealthy or unfit. We've all seen an Asian grandmother lugging heavy grocery bags up a hill with a baby strapped to her back, or perhaps feistily running to catch a bus.
Then there's the iconic image that we almost immediately associate with Asian elders and exercise. Stella Yi, MD, an assistant professor at the NYU School of Medicine, said when she talks to fellow researchers about her work, "the first response I get is, 'Really? I always see the Chinese people doing tai chi in the park.'" Yi's work has highlighted the fact that Asian Americans actually have lower levels of physical activity compared to other racial/ethnic groups.
The "model-minority" myth extends to health and physical activity, according to Yi. "People think Chinese elders are a healthy bunch who already exercise. That's just not true." In fact, there's increasing evidence that more physical fitness is needed in Asian American communities of all ages. "Asians are not exercising," Yi said. "It's just not a cultural norm."
In 2015 Yi looked at data on Asian Americans in both New York City and Los Angeles County and found they were less likely than other racial or ethnic groups to meet physical-activity guidelines. (The most recent recommendations for American adults are 150 minutes a week--or two-and-a-half hours--of moderate-intensity, or 75 minutes per week of vigorous-intensity physical activity, or an equivalent combination.)
The idea of her study, Yi explained, was to analyze data from two cities that had "very different opportunities for exercise." New York is a highly walkable city for about half the year; Los Angeles has driving culture, but a climate that allows for outdoor physical activity year-round.
Yi continued, "The fact that we found disparities in Asian Americans regardless of where they were living compared to other racial/ethnic groups started us down the path of, well, is this something that Asian Americans emphasize culturally?"
She then started looking at studies from Asia and found the prevalence of physical activity there to be low as well. "Speaking anecdotally to Chinese or Taiwanese people, nobody's exercising because everyone's working or studying," Yi said. "It's stereotypical, but it's really happening. Because there's such an emphasis on academic achievement, the kids are doing afterschool programs in math enrichment, not in soccer or basketball."
Video footage by Roland Lazarte
Physical activity is important for Asian Americans at any age, Yi said. Even though they have a lower prevalence of obesity, they are more likely to develop obesity-related conditions like hypertension and diabetes at lower body mass index values than other racial or ethnic groups.
This may be because Asian Americans tend to have a higher percentage of body fat for the same body mass index compared to their white counterparts. "Even though Asians have small body size, they have a disproportionate amount of body fat compared to muscle mass," Yi said. "As a kid, you don't exercise. As a grown-up you don't exercise. And then when you turn 50 you might be a normal size but then you're developing diabetes or hypertension."  The World Health Organization has even proposed lower BMI cutoff levels for determining overweight and obesity in Asian populations.
Yi attributed that lack of exercise before retirement to an underlying work ethic: "It's like work, work, work, work, work and then relax." After age 64, activity rates spike, Yi noted, particularly very low-intensity exercises: walking, tai-chi, meditation in the park. These highly visible, public activities are how Asian elders stereotypically become what Yi called "cultural icons of exercising."
And any physical activity that's culturally appropriate, such as tai chi, increases the likelihood of participation; studies have shown that culture, language and social networks can be barriers for elderly Asian immigrants to engage in leisure activities.
There's growing evidence that engaging in culture-related leisure activities brings older immigrants not only physical but also psychological and social benefits. A study on older Korean immigrants in the U.S. published in 2015 found that they gained a sense of social, cultural and psychological significance in life through culturally meaningful activities.
"KCS is a great success story in terms of engaging with the senior community," Yi said, especially with activities like the Korean dance group.
Most of the KCS dance group's members had no dance experience prior to joining, and few did much physical exercise. Many are retired nurse practitioners, an in-demand profession when they emigrated to the U.S. in the late 1960s and early 1970s. Between work and raising a family, there was just no time for physical activity.
Sunghee Oh, a slim woman from Bayside with berry lips, light brown hair, and a large hearing aid, said that she never did any sports as a younger person. At the center one day, she happened upon the dance class, and thought "'Oh my god, look at them!'"
Her first class was so strenuous she felt dizzy afterwards. "But day by day, endurance builds up. You think you can't do it, but when you do, it makes you so happy." Over time she noticed she had more energy. "It's good for circulation and also the mind. You feel self-worth."
The dancers' families have seen them perform, some via video. "They're proud their grandma is like that," said Susan Son, adding that she is over 80. "Mom is a dancer!" Sunghee Oh echoed.
Ahn said some seniors say the center is better than their own children, who take their sacrifice for granted: "Our services that we provide are unconditional. We don't expect anything from them."
Most come to the center every day it's open, Monday through Friday, from points as far as Westchester and New Jersey, to socialize and have a balanced breakfast and lunch, including soup, rice and side dishes like kimchee (it's the only center on the East Coast that provides Korean food). But Ahn said, proudly, that there's more of a focus on well being instead of just food or case assistance than at other senior centers.
The evidence that dancing has improved their outlook is written on their glowing, gleeful faces. Many of the elders spoke of the endorphins they feel from the class -- they clapped and occasionally squealed after routines. When asked if they are directed to smile throughout their routines, like high school cheerleaders, Ahn replied, "Of course not! They may be old in age, but they feel young in spirit. Aging cannot deter their happiness or passion."
Oh's favorite routine? ABBA's "Dancing Queen." "I feel like I am a dancing queen. I never thought I could do that."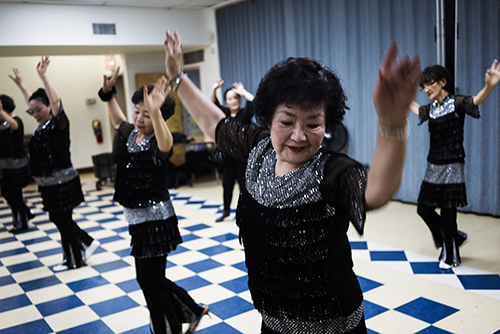 Members of the official dance team of Korean Community Services of Metropolitan New York rehearse their routine to ABBA's song "Dancing Queen."
---
Lisa Wong Macabasco wrote this article supported by a Journalists in Aging Fellowship, a program of New America Media and the Gerontological Society of America, sponsored by The SCAN Foundation.