To know Nanfu Wang is to know her rise to fame as both a critically lauded filmmaker as well as sensitive, subject-driven documentarian. I had the opportunity to sit down with the Emmy-nominated and Academy Award for Best Documentary-shortlisted filmmaker over her latest project, a film called I Am Another You. In the documentary, Nanfu follows Dylan Olsen, a young homeless man whose thirst for adventure rings astutely free in the face of a capitalist-driven society. His blithe and occasionally cavalier way of approaching the charity and compassion of strangers causes Nanfu to reexamine who he is, taking her on an adventure across the country and into the lives of his family, friends and into a spirit of wanderlust. Nanfu, who was educated in both China and the United States, represents the next generation of mainland millennial Chinese filmmakers eager to leave their mark in the arts by telling stories that are as timely as they are truthful. You can find my full interview with Nanfu below:
---
Christian Ting (CT): What initially got you involved in the field of documentary?
Nanfu Wang (NW): I came to the United States in 2011—that was the first time I ever left China. Initially I wanted to study journalism, so I went to Ohio University's graduate program to study media studies. That program was one year long. Prior to that I had no media background. So when I got to Ohio, we had to take classes about video, TV, commercials, film, journalism and print—basically all the different mediums. After half a year of study, I realized I didn't want to be a journalist (laughs). So I took a documentary class—that was the first time in my life that I actually watched real documentaries. When I was watching documentary films in class at Ohio U, I was amazed at how documentary films could be compelling and character-driven, since the documentaries in China are usually about food, Chinese history and the landscape—mostly about how great everything in China is—so when I discovered that aspect of documentary I knew it was something I wanted to do.
CT: You're seen as part of a generation of millennial Chinese filmmakers eager to bridge the gap in their native home experiences with what you've seen and studied around the world. Could you describe this community for us?
NW: From what I observed, those who came to study documentary all have something in common—a lot of them are idealistic, want to enact social change, because documentary is a hard career—you don't make money doing this (laughs). Everyone who's doing this is doing it because they love it. They all have some kind of purpose that made them want to use this media to advocate and promote something they believe in.
CT: What initially drew you to Dylan?
NW: As I mentioned, it started as a birthday gift to myself to go to a different place every year. The night before my birthday, I went to a bus stop in Chinatown and asked for the cheapest ticket and they told me I could go to Orlando for 60 dollars. I talked to a lot of travelers on the road that I met. I met Dylan at the hostel in the Everglades. We started talking. First I thought he was a traveler like myself and other people, but gradually from our conversation, I realized that he was living on the street and was a homeless person. When I asked why he did that he said he chose it. I was surprised; I didn't know anyone would do that. He told me about how he was born in a Mormon family, didn't believe in the religion, and how that drove him to seek freedom which he found in street living. That's what fascinated me. I wanted to film the kind of life that he described.
CT: Your film is compelling not only in the candid approach you take to your subject, but also how you interweave your own thoughts and experiences with Dylan's narrative. Did you ever feel afraid or concerned about being "homeless" for the duration of your film?
NW: Dylan is very street smart. He was doing it for a while before I met him. I fully trusted him, we became good friends and he protected me. Sometimes when I couldn't notice certain things, he sensed danger, people following us, or people paying attention to my equipment. He always knew safe places to sleep, places to get food—just street wisdom. Being with him, I felt safe.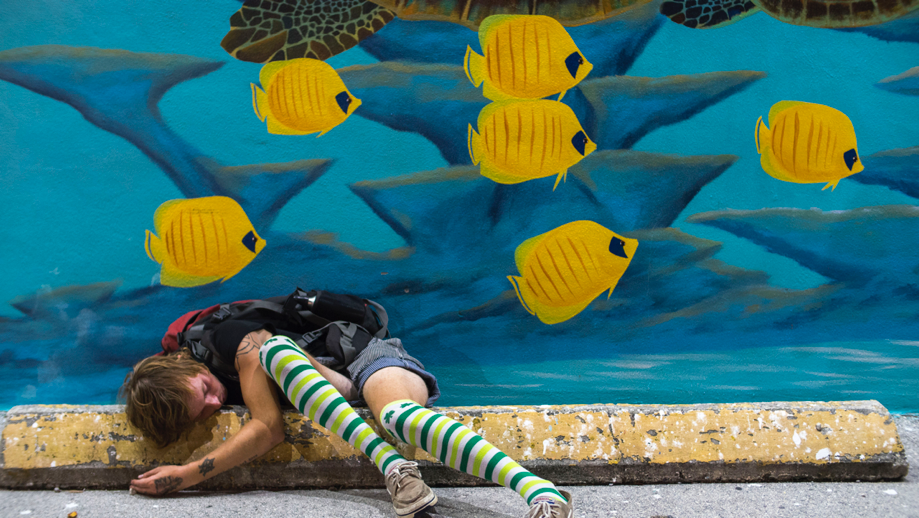 (Dylan, courtesy of Nanfu Wang)
CT: There is a scene in the film where you have a conversation with a Chinese restaurant worker about your job as a filmmaker and you explain to her how you want to work in the United States because China is not as free, and by extension, artists and filmmakers don't necessarily have the same freedoms of creative or filmmaking expression that we have outside of the country. What are some of the obstacles facing independent Chinese filmmakers in the country today that we might not know about?
NW: Basically anyone working in documentary is facing obstacles because all the TV documentaries in China are about their delicious food, glorious Chinese history and magnificent landscapes. Real documentaries depict real events. If in China, one wants to show what's really happening, no matter which aspect of the reality it is, it's politically sensitive to the government. Anyone working as an independent documentary filmmaker is fighting for the space to tell his or her stories. Even simply filming is a huge challenge. They'd be met with resistance, threats, even violence. The only places to screen their films are independent film festivals (which have been cracked down on recently) or underground screenings. One of the films I made, Hooligan Sparrow, I hope Chinese people get to see it because that's where the changes need to happen—with the people.
CT: On the issue of social movements, I wanted to especially commend you on your tackling of mental health issues in your film, especially since its widely known that in the Asian American community, mental illness is seen as either contagious, blasphemous, or at the worst, denied completely. What kind of message did you want to send with this film regarding mental illness—not only in the Asian American community, but also in the country as a whole?
NW: I think we don't have enough understanding of mental illness and we often jump into judgment too quickly. So I hope people would be willing to take more time and try to understand people and mental illness itself. Often times when someone is labeled as mental ill, it stops others from getting to know them. It's as if there's this whole category thing and we ignore the individual behind the label. I hope people can have enough compassion to see people behind their illness.
CT: What was your goal in making this film and did it evolve as you continued to film and study Dylan?
NW: To generate more compassion to people like Dylan, the kind of people who we have pre-conceived notions because we've seen them all the time around our street corner and such. So I just hope the film can make people look at those people differently.
CT: Have you spoken to Dylan since you completed the film? How is he doing?
NW: Yes, we talk a lot actually. I showed him the film before its premiere. He came to SXSW in March of last year—he was in the Q&A and we spoke a lot. He's still traveling! He was really happy to see the film made; his exact words were: "I'm grateful a person like me would ever get their story told, let alone told so artistically."
CT: What are you working on next?
NW: I'm working on two feature length documentaries—one is about China and the other is about Cuba. Hopefully I'll have more news about them soon, but right now I can't say much (laughs).
(Courtesy of Nanfu Wang)
Catch I Am Another You streaming on PBS's Independent Lens from January 30th to February 12th.