Koreatown resident Mira Kwon is making daily calls to grocers to arrange produce pickup for currently homebound seniors. It isn't how she had planned to spend her high school spring break when she started the Los Angeles branch of Zoomers to Boomers, but she gracefully accepts the conditions. For Kwon, this work is pretty personal: Her grandmother cannot go out to her favorite Korean markets anymore.
"One of her favorite things to do is to shop around Koreatown, but I just couldn't imagine how other seniors are able to do that during this time," said Kwon. Several weeks ago she had dropped off groceries at her grandmother's place when she saw her neighbor, another homebound senior, struggling to walk as he was taking out the trash. "I just want to help people here since there's been so much stress in Koreatown and [on] Asian Americans in general since the coronavirus outbreak."
In Los Angeles' Koreatown, the COVID-19 pandemic has swung the attention back on the early immigrants who had built a bustling, walkable neighborhood to recreate something familiar. Now in their later years, homebound seniors face the challenges of being restricted in movement and cut off from their accessible restaurants and grocery stores. Now Koreatown's newer generations are on a mission to reinvigorate the vital ethnic enclave.
Since Kwon launched Zoomers to Boomers in Koreatown in April, the L.A. branch has expanded rapidly to deliver groceries to the elderly in Studio City, Sherman Oaks and Hollywood. However, because much of the population in Koreatown still relies on word-of-mouth and long-established community networks, Kwon knew she'd have to rely on more traditional channels to let longtime residents know about her new service. With the help of her grandmother's connections and translation capabilities, she has been able to share information about Zoomers to Boomers on Korean news segments.
Koreatown has one of Los Angeles' largest populations of working class or low-income families who speak languages other than English at home. Fifteen percent of them are 60 years old and over.
"Korean radio stations and newspapers are very accessible to the elderly here," said Kwon. "I'm so happy to have our resource be made clear and available to them."
Koreatown has one of Los Angeles' largest populations of working class or low-income families who speak languages other than English at home. According to the 2010 Census, 33 percent of Koreatown's 117,593 residents identified themselves as Asian and 51% identified themselves as Hispanic. An additional oft-neglected fact: 15% of them are 60 years old and over. Much of the neighborhood was built by these same residents to make a new place feel like home when they immigrated to America. The affordability and high number of rental units in Koreatown is no coincidence; the area was designed to be accessible, friendly and communitarian.
In the heart of the neighborhood, Koreatown Youth + Community Center (KYCC) had been receiving calls from local small businesses long before Mayor Eric Garcetti ordered that Angelenos shelter in place.
"Before the mandated restaurant closures, Koreatown was already being impacted for weeks longer than other L.A. restaurants," said KYCC's communications editor Katherine Kim. "We started to realize this was going to really escalate in late February."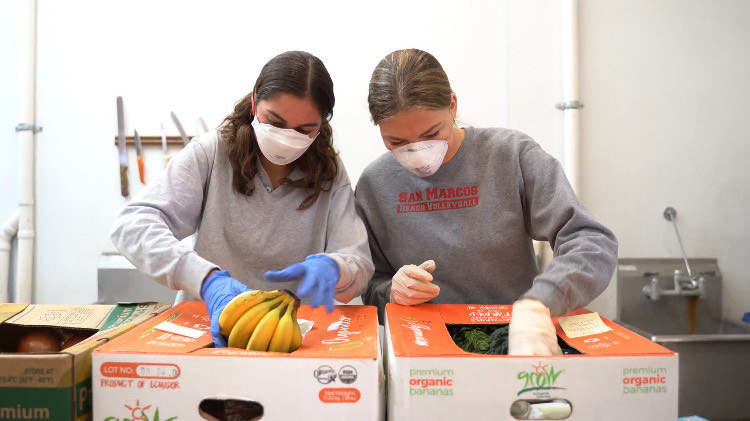 KYCC quickly recognized that the elderly population who use their services would also be impacted by restaurant shutdowns. The multiservice agency responded with a program in partnership with local food establishments to provide dosirak (packed meals) to the elderly who live in their affordable housing building, the Menlo Family Apartments.
KYCC's staff distributes food in their apartment building to around 40 families. Among them are 35 elderly members. Fifteen of those members are of Korean descent and about 10 of them are Spanish-speaking residents.
"It's not just the Korean population here," noted Kim. "The building is everything. It's Latinx, African American and Korean."
KYCC's next steps are to work with more family-owned Oaxacan and Central American restaurants in Koreatown to better serve their Spanish-speaking residents with the food and essentials that they're familiar with. The staff has seen for themselves the value of giving elders exactly what they need and will use in their homes.
"As far as I know, KYCC is one of the only organizations providing Korean meals to Korean elders," said Kim. "A lot of the elders are getting stuff like jjigae (Korean stew)! We don't know if they'll use a can of beans if it's not something they already use, but we know they're going to use ssal (rice) or ramen, so we'll deliver those items."
Meanwhile, life has become more precarious for the unhoused elderly of Koreatown. Before COVID-19 shut down the formerly busy strip malls, many of them were able to visit food trucks and stands for some semblance of comfort when all other living conditions were tenuous and uncertain. Now with most businesses closed, seniors who have been sheltering in homeless encampments subsist on what community members can provide.
Melissa Acedera, a Los Angeles native, feels breathless at the thought of how many in her city are hungry. "Food access is completely cut off right now, so every meal is so important," she said. "I am literally in my car doing food drops around [Koreatown] for two hours."
Life has become more precarious for the unhoused elderly of Koreatown. With most businesses closed, seniors who have been sheltering in homeless encampments subsist on what community members can provide.
Prior to the COVID-19 outbreak, Acedera was almost four years into her work as an activist in food justice. She built a reliable network of local grocers, food chains and restaurants that donate their leftover food to outreach groups like Ktown for All. Acedera also launched her own mobile Polo's Pantry to feed unhoused and marginalized communities throughout the city. Now faced with an unprecedented pandemic, she has become a pivotal community member to advocate for food justice.
Homeless outreach in Koreatown looks different at the moment. To follow social distancing protocol, Acedera is not able to talk to the elders in homeless encampments. "It's hard as a food worker because you want to give these plates to people, but we're literally just dropping them off. We can't interact. We can't check on the few people who we need to check on, especially if they are older."
Furthermore, Acedera is noticing that it is often the volunteer-run outreach groups that are the ones to educate and support Koreatown residents directly.
"In our outreach, Ktown for All provides COVID infosheets and masks whenever we have them, but what's surprising is discovering that folks aren't as aware about the virus," said Acedera. "That concerns me a lot. I feel that the city hasn't done enough to inform them."
Koreatown has turned inwards to pool resources for seniors during the COVID-19 emergency. KYCC has been fundraising rigorously and seeking grants to sustain their meal delivery service. Since the launch, Kim has noticed a steady flow of small monetary donations from people within the community. One Korean woman donated $1,500 that she had pooled with her friends through a gye loan club, which they initially started to save for a vacation.
Financial aid is arriving from afar as well. Kim notes that 50% of KYCC's monetary donations have come from Instagram, indicating a younger demographic that is eager to help. Having established themselves as the neighborhood's provider since 1975, the agency had not always used social media to ask for the public's assistance. Many of the small businesses and impacted residents that KYCC supports are not online, but it's where the newer generations are receiving information and looking for ways to plug into mutual aid efforts. Social media is how high schoolers like Kwon have identified the opportunity to bridge the gap between offline seniors and digital helplines.
Emergency relief efforts amidst COVID-19 highlight the individuals who are sympathetic to how Koreatown has changed. The neighborhood's elder population wrote a crucial chunk of Los Angeles history. Collectively, they have persevered with small businesses and working class backgrounds because of how much they relied on each other. In our state of emergency, it will take intergenerational problem-solving to start healing Koreatown.
Koreatown serves as an emblem of perseverance; its history does not falter in the face of the COVID-19 outbreak. Take it from Kwon, a third-generation Korean American who feels nourished by the neighborhood because it firmly roots her to her culture.
"There's something about being surrounded by such an amazing community," she said. "I've been able to learn so much about the history here, and that has inspired me a lot more to work on efforts to bring Korean representation and help Koreatown get through this."
***
To learn more about Mira Kwon's Los Angeles branch of Zoomer to Boomers, visit their website here.
To donate to Koreatown Youth + Community Center's Hot Meals initiative, visit their page here.
To learn more about Melissa Acedera's food work with Polo's Pantry, visit their Twitter here.
To learn more about or donate to Acedera's homeless outreach work with Ktown for All, visit the group's website here.