A new temporary exhibit at the Museum at the Fashion Institute of Technology (MFIT) provides a rich, nuanced overview of Asian American designers in the fashion industry. Asian Americans in New York Fashion: Design, Labor, Innovation collects garments, textiles, video and photographs to celebrate the contributions of Asian Americans to the New York fashion scene.
Split into two sections covering the 1950s to the present, the exhibit showcases the work and processes of designers such as Anna Sui, Naeem Khan and Yeohlee Teng. One part of the exhibit focuses on different techniques, cultural inspirations and wide-ranging aesthetics among Asian American designers.
Another part of the exhibit explores the often-invisible history of Asian garment workers, such as factory seamstresses, who contributed to the fashion industry. The organizers chose photographs and pieces which provide historical context of Asian American labor activism in the New York Garment District.
The exhibit is curated by graduate students in the Fashion and Textile Studies: History, Theory, Museum Practice MA program at FIT.
Graduate student Sophia Daniel, one of the organizers of the exhibit, explained how garments from designers Vivienne Tam, a designer born in Guangzhou, China, and Prabal Gurung, a designer born in Singapore, were inspired by Asian regions outside of their own immediate cultural backgrounds.
For example, a dress on display by Prabal Gurung from 2012 was inspired by Japanese photographer Nobuyoshi Araki's Sensual Flowers series. Another dress by Vivienne Tam from spring 1998 has a motif inspired by traditional Tibetan tiger rugs. "These dresses represent the vast cultural diversity of both traditional and innovative imagery across Asia and the designers' ability to adapt various mediums of art to the body," Daniel said.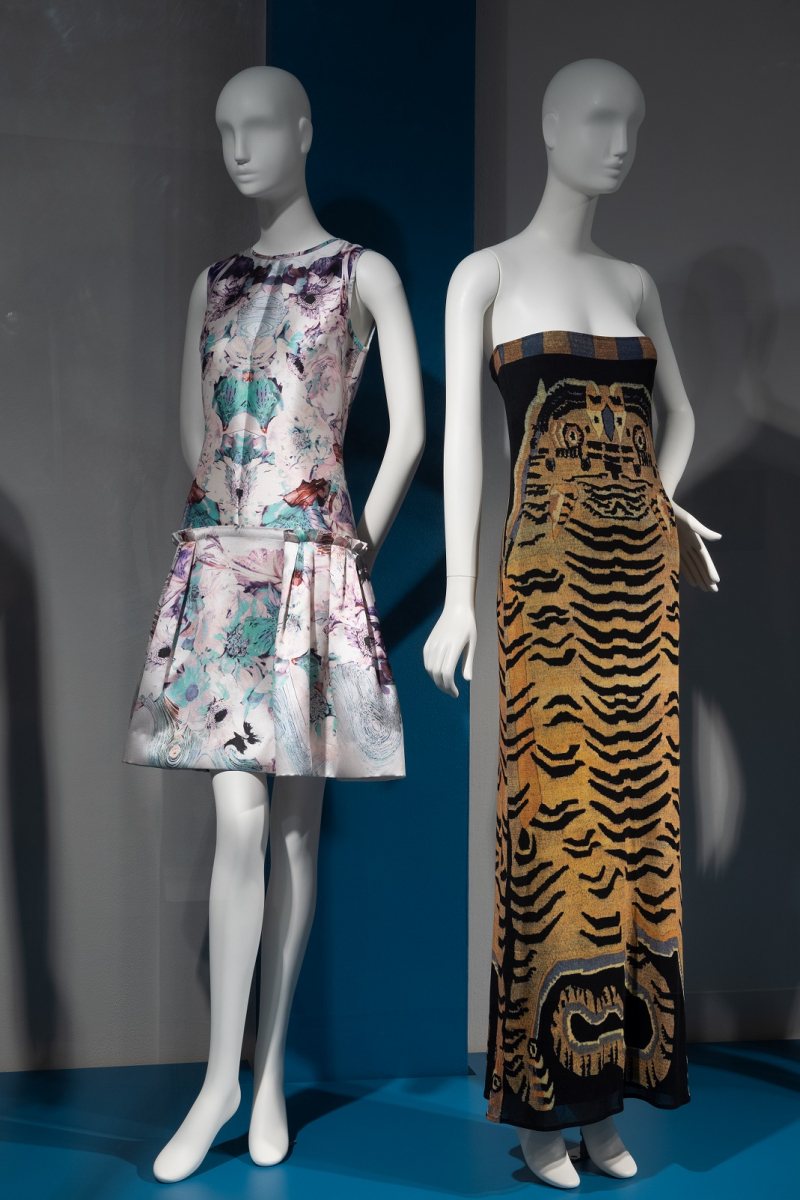 Left: Prabal Gurung, dress, spring 2012.
Right: Vivienne Tam, multicolor nylon net with jersey underdress, spring 1998, gift of Vivienne Tam.
© The Museum at FIT
Zoe Taylor, another graduate student, raised the question of attribution and credit for fashion design. She points to a jacket on display by designer Shail Upadhya, a former United Nations official from Nepal. "[Upadhya] does not have formal design training. His custom, one-off painted jacket speaks to fashion as art, self-expression and an embodiment of contemporary culture," she said. "Multiple hands were involved in the creation of this jacket. Upadhya did not construct this garment himself; instead, he enlisted a painter and tailor to execute his vision, which was inspired by the work of artist Keith Haring."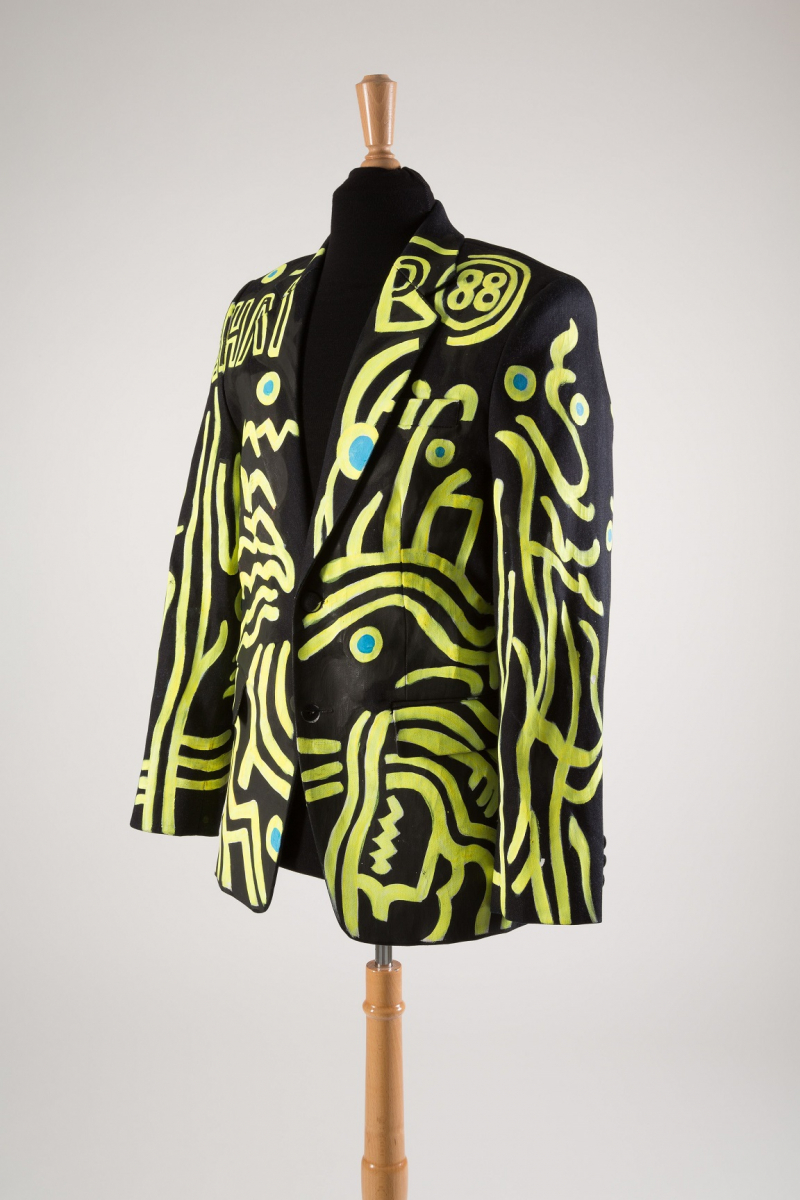 Shail Upadhya, jacket, cotton denim and paint, 1988,
gift of the Estate of Shail Upadhya, 2013.36.2 © The Museum at FIT
Contemporary designers Sandy Liang and Peter Do also have runway footage on display in the exhibit. Sandy Liang, an emerging designer, made a name for herself with styles inspired by her local community and elderly women in New York's Chinatown.
The student organizers of the exhibit hoped to bring more awareness to the contributions of Asian Americans to fashion, and to the New York fashion scene, during a period of historic escalation in violence against Asian Americans in New York City. The NYPD reported that anti-Asian hate crimes increased by 361 percent in 2021.
Taylor stated, "We hope to see an increase in the range of representation in the fashion industry as more BIPOC designers are highlighted for their impact in fashion. It is important for us as consumers to listen to and support these designers when they are speaking up about issues that are impacting them and their communities. We also hope that wearers will be more cognizant of the time, effort and work that goes into the creation of the fashion items they use on a daily basis."
Asian Americans in New York Fashion: Design, Labor, Innovation is free and open to the public and runs from March 2 until March 27, 2022.